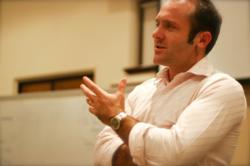 Major issues faced by young men.
Canberra, Australia (PRWEB) March 21, 2013
Major educational content provider Choicez Media has launched a major new boys' education program entitled 'The Men We Need'
Based on live seminar programs delivered to over 250,000 people in recent years the new program offers a comprehensive range of online video content, student workbooks and teacher manuals the program aims to create ongoing change for many of the current problems facing young men.
The content creation process involved input from an international panel of education and boys development experts. Choicez Media founder Jonathan Doyle stated, "We were lucky to have some of the best people in the world working on the project and the final result has been more than we could have hoped for. Finally, schools and teachers will have the kind of serious resource in their hands that they have wanted for so long."
The program addresses a range of key issues such as masculine identity, role models, relationships and sexual decision-making, pornography addiction, attitudes to women and managing issues related to alcohol and violence.
Doyle continues, "Young men have enormous potential but for many of them at this moment in history they remain unsupported. Absent fathers and the impact of major new technologies along with media and marketing can make it extremely difficult for them to find their way in the world. This needs to change and there is a great deal we can do."
The program is available globally and is seeing considerable interest from a large number of schools.