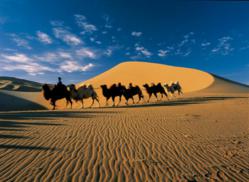 The kids had a fine time. They were tired at the end but enjoyed the trip. I would definitely recommend the area to other's with kids. --Alissa
(PRWEB) March 23, 2013
WindhorseTour, a top China travel agency which specializes in offering tours throughout China including the mysterious Silk Road, reminds their clients the peak season for Silk Road adventure will arrive in May. 2013. To celebrate this arrival, they have just released nine tours on their website.
The Silk Road in China section extends it way from Xi'an, the capital of Shaanxi, to Kashgar, a border city in Western Xinjiang. Every year from May to October, the weather along the route is gentle and relatively dry, which offers travelers a great chance to explore its abundant natural landscapes and cultural heritages.
"Based on our clients' interests, all the tours in Silk Road adventure series have been customized elaborately to focus on different activities, such as overland, camel riding, or cultural discovery." Helen Wang, the sales manager at WindhorseTour said.
For outdoor lovers, they can enjoy an overland trip through the boundless desert in Taklamakan, or a leisurely walk along the spectacular Kanas Lake and its surrounding forests.
For the travelers who are eager to gain an in depth knowledge of the ancient Silk Road, there is also a two week tour, which allows them to follow the path of the ancestors to explore the cultural heritages left by the ancient civilizations, such as the exceptional Buddhist treasures of Dunhuang Mogao Caves and the ancient city ruins of Turpan Basin.
Enroute over an 8 days Silk Road Highlights tour, clients start the trip with a drive to Karakul Lake and Tashkorgan Grassland. Then they venture into the deserts in Turpan to explore the ancient city ruins, and take a soft train ride to finally reach Mogao Caves in Dunhuang. This Silk Road Highlights tour is also a good choice for the family travelers with their kids. Alissa, a client of WindhorseTour said, "The kids had a fine time. They were tired at the end but enjoyed the trip. I would definitely recommend the area to other's with kids."
Kashgar, a border city renowned for the Karakul Lake and Mount Muztagh Ata, is a popular starting city for many travelers. Every path in this city is filled with warmth Uyghurs, Mongolian and other minority people as they share their local cultures, historical attractions and roaming camels.
WindhorseTour specializes in creating tailor made experiences based on every client's unique needs and operating groups to all provinces in China. Please visit WindhorseTour.com for more information or contact them.
Email address: news(at)windhorsetour(dot)com
TEL: (+86)-28-85593923, (+86)-28-86254701
Fax: (+86)-28-86254710