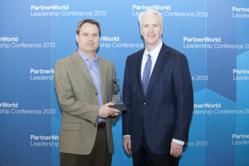 We are honoured that IBM recognized 360pi as one of the best retail technology solutions.
Ottawa, Canada (PRWEB) March 21, 2013
360pi, the global leader in price intelligence, is pleased to announce its selection as a 2013 IBM Beacon Award Finalist. These prestigious awards are given each year to outstanding IBM Partners, to recognize their achievements and excellence in skill attainment, industry knowledge, and technological innovation. The selected finalists and winners deliver top tier, value-adding solutions, that change the way their clients and industries do business.
About the Beacon Awards, Mark Hennessy, General Manager at IBM Global Business Partners, said "The IBM Beacon Awards recognize IBM Business Partners who have delivered exceptional innovation by creating a solution proven to drive business value by transforming the way their clients do business." According to Hennessy, recipients deliver this value through "innovative solutions, technical excellence and industry expertise."
The award finalists are selected from amongst hundreds of nominees by a panel of leading industry experts, analysts, journalists and IBM Executives. The awards recognize a broad variety of categories, and selection in each is based on a detailed analysis of each nominee's solution. The criteria is different within each category, however, and each category has rigorous requirements that candidates have to meet and exceed, in order to compete.
360pi was selected as a finalist in the Best Industry Solution for Retail category for 360price, 360pi's online competitive monitoring system that monitors retail prices for millions of products and provides price transparency across hundreds of major retail websites. 360pi's customers, whether they be retailers, manufacturers or other parties with an interest in retail price intelligence, subscribe to 360price for a variety of critical business needs, such as:
proactively right-pricing products at retail, and responding in near-real-time to competitor price moves
empowering retailers to fulfill their in-store price matching policies
monitoring pricing across retail channels and monitoring compliance with minimum advertised price (MAP) policies
comparing pricing for private label and unique products with similar or comparable products
Faced with ultra-informed consumers, frequent price changes and cutthroat competition, many of North America's top retailers now depend on 360pi's retail price and product intelligence offerings as a business-critical service and a source of major competitive advantage.
In addition to monitoring retail prices, 360pi's product intelligence delivers additional key services such as:
enabling retailers to identify comparable products, and their pricing, at competitors (products that are similar but not identical to their products)
enabling retailers to discover assortment gaps and "deadweight" products by gaining visibility into which products their competitors carry and they do not, and vice-versa
empowering in-store sales associates with real-time competitor pricing via mobile devices on the showroom floor, enabling them to better respond to customer price match requests
"360pi is the trusted source for comprehensive, high accuracy retail price and product intelligence for retailers, manufacturers, and any company with an interest in the retail ecosystem," said 360pi CEO, Alexander Rink. "We are honoured that IBM recognized 360pi as one of the best retail technology solutions."
To find out more about 360pi's award winning solution, go to http://www.360pi.com
About 360pi:
360pi, a global leader in retail price intelligence, delivers online competitive monitoring solutions that give retailers complete visibility into their competitors' prices and assortments. Top retailers use 360pi's industry-leading match and accuracy rates – made possible by its proprietary artificial intelligence and cloud-based, Big Data capabilities – to enhance their pricing strategies and enable margin and revenue increases of up to 80%.