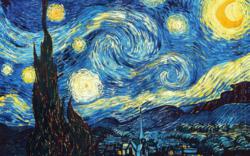 Artisoo gallery releases its top 10 hot sold oil painting reproduction of artist -- Vincent Van Gogh.
(PRWEB) March 21, 2013
Artisoo.com is a popular online art gallery committed to becoming the best reliable online store by offering superior customer services, worldwide shipping and various oil paintings. Artisoo.com offers both retail and wholesale service for individuals and businesses of all sizes. With oil paintings at a reasonable price, 100% hand painted high-quality and excellent service, they have got customers' loyalty and build long-standing business relationship. Today, Artisoo gallery releases its top 10 hot sold oil painting reproduction of artist -- Vincent Van Gogh, so that customers can make a choice between the hot sellers
Although Van Gogh only sold one painting during his lifetime, The Red Vineyard, Van Gogh prints, posters and other reproductions of his works are some of the most popular works of art sold today. Below is the list of the Top ten Vincent Van Gogh paintings offered by Artisoo gallery.The paintings included on this list have been chosen based on their popularity and their artistic appeal.
1. Starry Night
The best of the Vincent Van Gogh paintings is Starry Night which is also his most famous work. He painted this masterpiece during the day, and it was his memory of the nighttime view outside the window of his sanatorium room. It depicts the village Saint-Remy under a night sky of swirling stars. It is one of the world's most sought after replica, and it has inspired many other paintings, songs, and stories.
2. Starry Night over the Rhone
In this nighttime painting, Van Gogh focused on the view over the river Rhone. He was inspired to paint the night sky because he was touched by its beauty. However, he did not simply want to sprinkle white dots on a black canvas. Rather he wanted to create a scene that showed the stunning blues, violets, and yellows that he saw while looking at the stars.
3. Self Portrait
There are thirty-seven Vincent Van Gogh paintings that are self portraits. He painted himself in a variety of ways, but he never looked at the viewer. His Self Portrait without Beard has been sold for more money than any other painting.
4. Sunflowers
Van Gogh loved sunflowers for most of his life, and that passion is captured in his series of twelve sunflower paintings. These works are always included when there is a Van Gogh exhibition, and they are likely to be the most copied of all of the Vincent Van Gogh paintings.
5. Cafe Terrace at Night
In this work, Van Gogh has captured the view of the place du forum in Arles, France at night. Visitors to this area can stand in the very spot where Van Gogh set his easel and see the street that inspired him. The background of the work carries a nod to Van Gogh's Starry Night paintings.
6.Blossoming Almond Tree
Almond Tree, represents much of what Vincent often thought about: rebirth. Trees blooming and flowering announces the beginning of spring and new life. As a gift to celebrate the birth of a child, this could not be more perfect. As soon as Van Gogh found out about the birth, he immediately thought to visit his brother in Paris. Knowing that he was still trying to overcome his mental health issues, he was aware that a trip to a big city could be taxing. He hoped his time in the asylum would enable him to start again, feeling well. He often wrote that he felt better after being in the hospital.
7. View of Arles with Irises in the Foreground
It is one of the many Vincent Van Gogh paintings that was inspired by flowers. He revolutionized the still life, and his flower paintings are a prime example of that.
8. Vincent's Chair
Both his paintings of his own chair and Gauguin's chair are simple and stunning. He painted them in hopes of an exhibition.
9. Still Life with Yellow Straw Hat
This work is acclaimed as technically flawless.
10. Wheatfield with Crows
The work did for the day what starry night did for the night. It is breathtaking.
The Top 10 Vincent Van Gogh painting list is released due to popular demand, "Consumers and companies strive to keep up with the latest interior decor trends," said Vincent Zhou, CEO of Artisoo gallery. "Just like they care about Pantone's annual 'it' color, they want to know which décor accessories are hot. Our list makes it easy for consumers to pick famous paintings and find out which oil paintings are more desirable in the market."