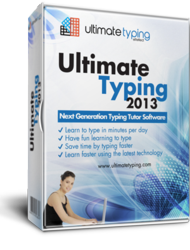 The review focuses on the efficiency of the Ultimate Typing™ 2013 software to improve typing speed and accuracy within an impressively short amount of time.
New York City, NY (PRWEB) March 22, 2013
Typing software developer company eReflect announced today that SpeedReadingTechniques.org published on their website an in-depth review of the recently launched software Ultimate Typing™. The review focuses on the efficiency of the Ultimate Typing™ 2013 software to improve typing speed and accuracy within an impressively short amount of time. The reviewer of Ultimate Typing™ asserts how with little practice and effort typing skills can improve both in terms of typing speed and typing accuracy. The developers at eReflect stated that they were grateful for this feedback, and especially the reviewer's suggestions for improvements to the software.
The reviewer personally practiced with Ultimate Typing™ before the review was composed in order to provide a genuine, first-hand reaction about the software's efficiency level. According to the review, the software differs from all other typing software in view of its customizability and intelligent design to accommodate all types of learning needs and styles. The review emphasizes the option the learner has to make practicing very personal and by extension more efficient. More specifically, the review mentions that the learner can select texts of their choice to practice typing with, as well as create their own typing lessons.
The typing software review suggests that despite a few minor setbacks, like MAC incompatibility and limited language keyboards, the software offers an opportunity for typing beginners to correctly and efficiently improve on their typing skills without having to practice long hours. The review notes that Ultimate Typing™ has been designed in such a manner that the video tutorials, the varied activities, and expertly-designed lessons all contribute in efficient typing learning, no matter one's age or typing level.
With less than 10-minute practicing per day, as the reviewer suggests, a user can have tangible results in a short time and be able to reap many benefits from their typing mastery in their professional lives. The review mentions job prospects, work productivity, and accuracy and time saving to be the most perceptible advantages people can get with better typing skills. After reviewing Ultimate Typing™ features one by one, the reviewer concludes that due to its customizability, anyone from beginners to advanced typists can benefit from using the software.
For more details on Ultimate Typing™ please visit http://www.ultimatetyping.com/.
About Ultimate Typing™
Ultimate Typing™ software is designed specifically for the improvement of typing skills. Created by eReflect, a world leader in e-learning and self-development software, Ultimate Typing™ has been informed by the latest developments in the science of touch typing.
Since its creation in 2006 by Marc Slater, the company has already catered to over 112 countries all over the world, offering products with the latest cutting-edge technology, some of which are among the world's most recognized and awarded in the industry.