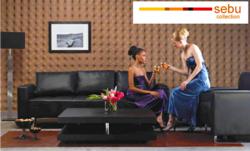 All of The Futon Shop convertible sofa designs are comfortable for everyday lounging, and they fold out to provide a welcome resting place for an overnight guest or week-long stay.
San Francisco, Ca (PRWEB) March 22, 2013
On March 22th, The Futon Shop responds to an article published in Furniture Today on how contemporary design is demystified by upholstery sources.
According to the March 11th Furniture Today News report written by Cindy W. Hodnett, through Furniture Today and HGTV's Consumer's view summary, seven out of ten consumers incorporate modern sofa beds and furniture into their décor, from stationary sofas to theater seating.
Hodnett explains that although these great ratings create a high demand for Modern furniture, there are still false impressions about the comfort, family friendliness, and price of such home furnishings. Furniture Today had manufacturers, fabric suppliers and retailers weigh in on the myths and through their research it was put into three myths: 1) uncomfortable and not family friendly, 2) too expensive and only popular in metropolitan areas, and 3) modern furniture is only one look.
The Futon Shop agrees that there are many modern sofa beds in the market right now that are way to hard and uncomfortable and are way to stiff to sit or sleep on. But The Futon Shop specializes in modern sofa futons, which cater to customers who purchase modern sofa bed futons often for their guest beds or to sleep on. With this goal in mind when looking and designing furniture, The Futon Shop has found comfort plus style with their sofa sleeper line. One example is The Futon Shop's Peru Sofa Sleeper. It has a pocketed coil mattress pad over S-spring base for an extra luxurious feel, and a high elasticity foam cushioning with a top layer of poly fiber to give a mattress topper feel while sleeping. Overall, the Peru is a top seller because it is comfortable to sit on, gives support while sleeping, but also gives a great clean modern look to one's home décor.
The Family friendly issue was very concerning to many customers, so The Futon Shop made a point to offer mainly Modern Furniture with options with Micro suede fabric, which is stain resistant and many of the covers can be removed and cleaned through the washing machine.
Another myth is that Modern furniture is too expensive. That is just not true when shopping at The Futon Shop. When comparing modern furniture, the price has a huge range. But The Futon Shop's range goes from $215 to $869. When comparing modern furniture made in Italy and in Europe, the price can get extremely high.
And the third Myth that Modern sofas only have one look is just not true. The Futon Shop has over 25 Modern Sofabed futon styles from leather like, suede, patterns, animal print, loveseat, double, queen, arms, and no arms, as well as many different lounge positions.
All of The Futon Shop convertible sofa designs are comfortable for everyday lounging, and they fold out to provide a welcome resting place for an overnight guest or week-long stay. That's because they are built on our sturdy upholstered futon sofabed frames with quality foam or innerspring mattress beds and seating. All the convertible futons, couch beds and modern sofa sleepers are manufactured under strict quality control and made with responsibly harvested hardwood frames and premium upholstery: and smooth mechanisms make it easy to convert the sofa to bed and back again.
The Futon Shop is a vertically integrated retailer that manufacturers over 33 organic and green mattresses from start to finish. The company dates back to 1976 led by Suzanne Diamond and her team of specialists dedicated to producing eco friendly furniture and bedding. Their mission is to produce the best eco-friendly/chemical-free Organic and Natural futons, organic futon mattresses, futon covers for sofa beds, futon frames, and platform bed frames that promote better healthy living and a good night's sleep for all.
Organically yours, The Futon Shop