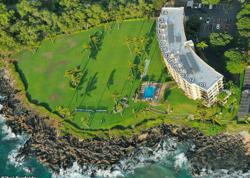 ...the more time spent relaxing in the water, the less clothing needed.
Kihei, HI (PRWEB) March 21, 2013
1. Summer is Surprisingly Affordable
The same accommodations that cost $300 to $500 a night in the crowded winter months will cost HALF that in summer. Renting a vacation condominium rather than a hotel room gives the traveler a full kitchen (saving on meal costs) and provides more space for about the same cost as that hotel. Many also have laundry facilities to allow the traveller to carry less clothing and save on airline "excess baggage fees". If travelers avoid the expensive (and often crowded) resorts, they can save a bundle and avoid the crowds and still enjoy all that Maui has to offer.
2. Warm Water - Great for Snorkeling, Diving, Swimming...
Speaking of less clothing - the more time spent relaxing in the water, the less clothing needed. After all, no one comes to Maui to spend all their time in a stuffy room in stuffy clothing, do they? While the water temperature is comfortable in Maui all the time, those extra few degrees make the water an even more appealing place to spend time. And the very low rainfall in summer is another incentive to get wet.
3. The Arts and Culture are Year Round
A lot of people don't realize how much art and culture there is to enjoy in Maui. But there is a lot of art and culture, and at very reasonable costs. The Maui Arts & Cultural Center may be the 'heart' of the arts world on Maui, but its 'soul' is on every street and every beach and up every hill. That being said, just this summer, at the MACC, visitors (and locals) can catch concerts by Melissa Ethridge, Slack Key Masters with John Keawe, Flock of Seagulls. What a great variety of talents!
4. Incredible Beaches
Maui is known for its incredible beaches. It usually has several of the "Top Ten" in the world. There is no such thing as a private beach in Hawaii, so these amazing, "award winning" beaches are always available to the public all the time. Go enjoy them. They are clean, clear, with stunning warm water (see #2) and a great variety of aquatic life.
1. The Shops, Restaurants and Golf
World-famous chefs, amazing shopping and spectacular golf courses are all over Maui, but while they are world-class no one has to pay "top shelf" prices for them. Many of the best restaurants are open for lunch, where the same food can be had for far less than it would cost at dinner. Its the same chef-inspired food and quality for a more budget-friendly price.
Everyone can support and enjoy the arts at the galleries all over Maui - go in, admire and appreciate the stunning art from all over the globe and buy a one-of-a-kind memento to take home. Many of the galleries that have incredible (and pricey) originals also have very reasonably-priced limited-edition prints or authorized reproductions that have the high quality without the high price. Its a treasure to take home and help support the artists and galleries that create it all at the same time.
Maui has some great golf courses designed by some of the finest designers in the world. If there's a course that someone would like to play, don't hesitate to call the course and ask if they have any "off hour" special rates or discounts for filling a gap in their schedule on short notice.
Maui can be a one-of-a-kind experience but some smart shopping and good timing can make it far more reasonably priced. With a little work, you can save enough to make Maui your "go to" place every year for a vacation!