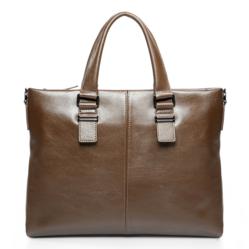 Gender:Men
Brand:SAMMONS
Popular elements:Thread
Pattern:Solid
Material:Cowhide Leather
Color:Brown
Small of Big:Middle-sized bag
Guangzhou,China (PRWEB) March 21, 2013
When it comes to fashion, numerous women rely upon appropriate accessories to complement their dressing and show their style. Jewelry and a designer handbag are often considered the best accessories that most women always focus on. Now for all women, selecting a beautiful purse or a handbag won't be a problem anymore, with the leading online store BagTreeOK.com announcing huge discounts on their large collection of wholesale handbags and purses. The special discounts that they are offering to their global customers will inspire more and more women to shop with them in an affordable manner.
The web store is very much confident that their announcement will make a great difference and will help them stand out from others. Their spokesman discusses about the new discount offers, "We are offering special discounts with an objective of allowing our customers to feel privileged. We sell our items at wholesale prices to the retail customers and it will make their purchasing more affordable. We actually help them in saving money while at the same time they can showcase their personal style with our wholesale designer handbags."
Many women have welcomed this discount offer that will now allow them to grab bags and purses of their own choice by paying reasonable prices. Shopping through BagTreeOK.com gives them a whole range of choices, and their special discounts are irresistible for any woman who loves to carry adorable bags with her. Moreover, they have wholesale purses and handbags for every occasion and for every purpose.
BagTreeOK.com encourages bulk buying of bags and purses and they bundle products to make the deals more affordable. This could be a great opportunity for women buying handbags wholesale and to help flaunt their style to the whole world. The web store invites retail customers from all across the world to take advantage of their special price cuts and shop for designer bags and purses at unbelievable prices. You can check their collections and prices by visiting the website http://www.bagtreeok.com/.
About BagTreeOK.com
BagTreeOK.com is a leading online web store selling a wide range of fashionable bags, purses and other items to their worldwide customer base. The website was established in 2008 and since then it has been assisting global retail consumers to buy fashionable handbags and purses at wholesale prices. The company supplies multi-brand fashion luggage products to the global consumers at highly discounted prices.