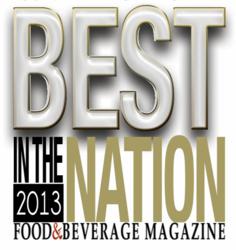 Los Angeles, CA (PRWEB) March 21, 2013
The Bonita Sprits Company, the parent company of hip hop recording artist and actor Xzibit's co-owned Bonita Platinum Tequila brand recently earned top honors by the national industry publication leader, Food & Beverage Magazine for Best in the Nation in 2013 for its superiority in the wines and spirits category. This distinct award was presented to the world's only five-times distilled tequila for the quality of packaging, marketing, and taste by the magazine's Publisher, Michael Politz.
"Bonita Platinum Tequila represents the epitome of luxury and elegance," said Politz. The Bonita Tequila product and emerging business mogul, Xzibit are set to grace the cover in the upcoming April 2013 issue of the Food & Beverage Magazine as well. "I'm very excited about the momentum, stated Xzibit. It's always a good place to be when industry leaders such as F&B Magazine recognize your brand."
The partnership between The Bonita Spirits Company and Xzibit was announced in November of 2012. Since the announcement Bonita Platinum Tequila continues to create tons of industry buzz. They were recently in both the GRAMMYs® and OSCARS® gift lounges, seen on Good Morning America and Las Vegas version of Access Hollywood on the Fox More Access Show. Additionally, the official Bonita Tequila kicked off in Las Vegas, Nevada last month with a special celebrity autograph signing at Lee's Liquor. Earlier this month the Official Red Carpet launch hosted by Xzibit was held at the Hyde Bellagio where Xzibit's A-list friends like Dr. Dre, Snoop Dogg, and Ron Fair (former head of Virgin Records) would help celebrate.
The ultra-premium tequila launch in Las Vegas was the first of a 33-city nationwide launch and international expansion over the next twenty-four months. "We are in awe of how much everyone is enjoying the product. We are looking forward to continuing our goal of being the highest quality tequila in the market, said co-owners Chris and Anette Brown.
Bonita Platinum's "Beyond Perfection" tagline can only be matched by the packaging itself. The tequila is bottled in pure crystal and wrapped in satin. As for what is next for the brand, they recently secured international distribution in British Columbia and Alberta Canada and domestically in Texas.
Bonita Tequila can be found in Lee's Liquor stores in Las Vegas or by purchasing directly online at http://www.shopmerwins.com/bonita.html. Xzibit is available for interviews regarding Bonita Platinum Tequila. All media requests and press related inquiries for Bonita Spirits Company or Xzibit please contact BonitaSpirits.com/about-2/mediapress/ or contact Shay Brown of Royal Kingdom PR Agency, Inc. at 901-628-8011 or via email at press(at)royalkingdomagency(dot)com.
Xzibit (Alvin Joiner) is a multiplatinum recording artist, actor and television personality, born in Detroit, Michigan, where he began rapping at a young age. He went on to build a solid career with projects alongside such big names as Eminem and Snoop Dogg. Already well-established and critically acclaimed, Xzibit was recruited by famed producer Dr. Dre to join the all-star cast of Dre 2001(1999). An accomplished actor and television host, he can also be seen in films like 8 Mile (2002), Derailed (2005) and XXX: State of the Union (2005). His newest film is Seal Team Six: The Raid on Osama bin Laden.
The Bonita Spirits Company is one of a select group of celebrity owned spirits in the world. The company was founded in 2010 by Chris Brown, former airline pilot and accomplished entrepreneur. Bonita Platinum is an ultra-premium luxury brand; the world's only five-times distilled tequila. For more information on the Bonita Spirits Company, please visit http://www.bonitaspirits.com