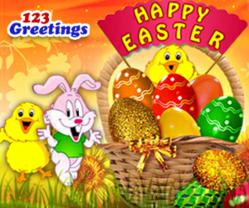 Easter, in a way, symbolically represents what we at 123Greetings.com strive to achieve through our endeavors – a greener and richly abundant Mother Earth.
-Arvind Kajaria, Founder 123Greetings.com
New York, NY (PRWEB) March 21, 2013
Easter is one of the most sacred events for Christians which marks the resurrection of Christ. It is believed by some that the name Easter is derived from the word "Eostre", the Goddess of spring and fertility. On the occasion of Easter 2013, 123Greetings.com offers to do its part in helping to sustain and revive Mother Nature by giving people more reasons and options to go the e-card way.
From the legendary Easter bunnies delivering colourful Easter eggs, baskets of Easter candies, flowers that symbolize the bountiful nature of spring to the graphical representation of Christ's resurrection, 123Greetings.com has over 590 different expressions under 15 different categories to help users send the right expression for just about anyone this Easter.
Last year over 850k Easter expressions were shared by users from 123greetings.com. This year the figure is expected to be surpassed by the end of Easter Sunday.
Arvind Kajaria, Founder of 123Greetings.com, says "Easter, in a way, symbolically represents what we at 123Greetings.com strive to achieve through our endeavors – a greener and richly abundant Mother Earth. We are confident that together with the support of our 95 million visitors and 23,000-strong artist community, we shall succeed in contributing towards a greener planet."
About 123Greetings.com:
123Greetings.com is the world's leading online destination for human expressions reaching over 95 million visitors annually. Drawing from its tag line "Free Greetings for the Planet" the service exemplifies the notion that the best things are free in our planet and so should wishes, greetings and personal expressions be. Its offering of over 37,500 greeting cards covers a mix of 3,000 seasonal & everyday categories.
For details visit http://www.123greetings.com