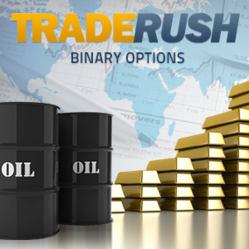 'TradeRush provides the highest level of one on one forex trading education in the industry today.'
Limassol, Cyprus (PRWEB) March 21, 2013
NON-STOP INNOVATION FROM THE LEADING BINARY OPTIONS BROKER
TradeRush introduced the popular 60 seconds trading option to the industry and has since continued this model of innovation. This brand continues this pattern with their recently updated iPhone application. This app has a sleek new design and upgraded functionality for optimal mobile trading. Traders are now free to deposit and withdraw funds as they please with updated functions on the TradeRush mobile apps. Binary options trading via an iPhone or Android application allows traders to have the flexibility to invest and profit wherever, whenever.
TradeRush recently added exciting new assets and expiry times to the popular 60 Seconds trading feature. The TradeRush.com 60 seconds trading tool now boasts the largest selection of trading assets and expiries in the forex industry today. Binary options traders can take advantage of both short and long term expiry times for their trades, ranging from 60 seconds up to 6 months in the future.
NEW FROM TRADERUSH: LEARN FROM THE PROS
TradeRush is proud to begin offering advanced training courses for traders new to the world of binary options. These courses cover a variety of topics, from the basics of the stock market to the fundamentals of candlestick charts. Candlestick charting is an important aspect of stock options trading because understanding these complex patterns can lead to more educated predictions. Japanese candlestick charts are used by forex and stock traders looking to analyze market trends.
The TradeRush training program teaches traders how to determine whether the market is bullish or bearish for specific assets. Traders who join the academy will learn both technical and fundamental analysis. Upon completion of the academy program, traders will be able to integrate forex chart patterns into their trading independently. TradeRush upholds its strong position among binary platforms due to their training programs as well as competitive payouts. According to academy account analyst Jacob Green, "TradeRush provides the highest level of one on one forex trading education in the industry today."
ABOUT TRADERUSH.COM
TradeRush was established by Edbruke Investments in 2011 in Limassol, Cyprus. This binary options broker provides traders with a user-friendly interface and a selection of over 100 assets to choose from. The site has continually improved since its creation and has incorporated user feedback in its continued innovation. With this much progress in only a couple years, this already impressive binary options broker is well-positioned to put increased distance between themselves and the rest of the field.
BINARY OPTIONS AFFILIATE PROGRAM
Binary options affiliate programs differ in their offers to partnering affiliates. Rushbucks has been named the number one binary option affiliate program due to their extensive selection of marketing tools. Rushbucks.com has a clean interface and provides affiliates with up to date tracking statistics. Partnering with Rushbucks as an affiliate translates to on time, reliable payments and high conversions. This affiliate program provides unlimited high quality resources, included customized banners and unique review content. The Rushbucks system extends an international reach, supporting 6 languages and offering marketing materials in a total of 10 languages.