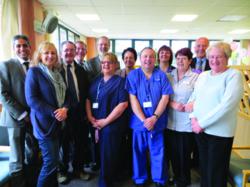 (PRWEB UK) 22 March 2013
In its new partnership with West Suffolk NHS Foundation Trust, where ID Medical holds sole Tier 1 contract to deliver premier locums to the Trust, ID Medical's managing director Deenu Patel presented their annual awards, Shining Lights, to 65 truly dedicated staff with a combined total of more than 17 centuries of service.
Patel, who was vastly impressed at the high level of care and commitment demonstrated by all award winners, commented "The whole patient experience is set clearly as top priority in this Trust and their dedicated staff aim to attain best practice in a holistic approach to patient experience, encompassing patient respect, safety and quality of care. ID Medical is absolutely thrilled to be working in strategic partnership with West Suffolk NHS Foundation Trust, collaboratively supporting its flexible workforce solutions, and looks forward to its own locums becoming part of this committed workforce.
"A further part of our commitment to the Trust is to assist with its CSR and charitable work in the community, and we very much look forward to supporting the Trust throughout the year in a variety of fund raisers such as its Men's Health Campaign which is focussed on raising £59,000 for a TRUS (trans-rectal ultrasound and biopsy) machine which will help to diagnose prostate cancer. Proceeds raised at this year's It's A Bury Knockout, which is a family fun day involving local businesses in a knockout style competition on Sunday 22 July, will also support the Trust's Men's Health Campaign."
For more information on It's A Bury Knockout view here: http://www.buryknockout.com.
ENDS
About ID Medical.
ID Medical was established in 2002 and has since maintained its enviable position as market leader in the provision of high calibre medical staffing to both the public and private sectors. As the UK's leading provider of locum doctors, nurses, AHP/HSS and clerical staff, ID Medical holds preferred supplier contracts with over 80% of hospitals nationwide. It supplied over 1.3 million hours in 2012.
Founded on its core principles of quality of service, dedication, innovation and 100% commitment, the ID Group provides a complete medical staffing solution to its valued partners. Its services form part of the NHS procurement, with the ID Medical brand becoming synonymous with quality and dedication to the requirements of its clients and candidates alike.
In 2013 ID Medical achieved three years featured in the annual Recruiter FAST 50 league, one of only 7 UK recruitment companies demonstrating strong sustained growth, and one of only three medical companies making the grade.
In its first year entering, it was accredited two star rating signalling 'Outstanding Organisation' by Sunday Times 100 Best Companies To Work For 2013.
For further information on ID Medical please contact:
Caryn Cooper
head of marketing
ID MEDICAL - ID House - 1 Mill Square - Wolverton Mill South - Milton Keynes - MK12 5ZD
t: +44 (0) 1908 555 498 f: +44 (0)1908 552 825
w: id-medical.com e: caryn.cooper(at)id-medical(dot)com