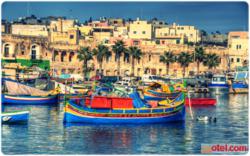 Malta (PRWEB) March 23, 2013
When people want to get the best deals for hotels in Malta, they need to know that two of their most important needs are being satisfied: booking a perfect stay and paying the lowest price. Otel.com can cover all of these and can also assist the client by using social communication on iPhones or iPads.
Malta is an all-year round tourist destination, for both hot and cool climates, with a history dating back around 4500 years. Amongst the most important events in Malta is the annual Carnival, which takes place every year in February, while one of the most visited areas is Valletta. By booking their accommodation in one of the Malta hotels, people can visit well-known attractions like St. Johns Co-Cathedral, Our Lady of Victories Church, Auberge de Castille, Magisterial Palace, Manoel Theatre and the National Museum of Fine Arts.
Being situated right in the heart of the Mediterranean Sea, the beach hotels in Malta offer multiple facilities for tourists to enjoy. The transportation can vary from bus courses all over the island, ferries, a sea plane that travels from Valletta to Gozo's Mgarr Harbour, or the 'water taxis' to reach other islands.
Otel.com offers a various number of Malta beach hotels, with great accommodation and using the lowest prices, such as [Qawra Point Holiday Complex Hotel. It is a 3 star hotel and is located in St Paul's Bay at a 4 km distance from Malta. This beach hotel consists of 30 apartments and offers tourists a wonderful view of the region from its rooftop terrace. Qawra Hotel offers a different range of facilities which include a 24 hour reception, a lift, room service, currency exchange and a house doctor. Because it is close to the city centre, the hotel gives a lot of entertainment possibilities for tourists.
The Burlington is also a 3 star hotel, 9 km away from the city centre of Malta. It has 55 apartments, equipped with all modern facilities, including a terrace, a kitchenette and a lounge area. The hotel is situated in St Julian's area and its main attraction consists of the large number of entertainment activities it provides. Located at a short distance away from the city center, the http:// Burlington Hotel is a very accessible tourist destination and a great way to spend a holiday. The main transportation network is the public bus and there is also a casino just near the entrance.
About Otel.com
Otel.com offers clients deals in top destinations like Paris, Dubai or New York with discounts that go up to 70%. They include cheap hotels in any country and have a wide range of selected hotels for any destination: beach, luxury or business.
Those interested in taking advantage of this month's offers from Otel.com, should know that the company's offers, contact information and service range are all available at the following address: http://www.otel.com./ .