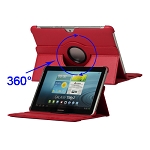 Protect your tablet PC with top quality tablet leather cases for better user experience and keep it in style...
(PRWEB) March 23, 2013
A slew of tablet cases for the upcoming iPad 5 have already shown up on TVC-Mall, pushing the rumors about the new-gen IPad to a high level. It is not sure whether these new iPad 5 cases are fitting with the iPad 5, which is still shrouded in mystery. As is widely believed, Apple will continue to launch a full-sized iPad this year, prompting accessories makers to compete to bring out the related accessories even before the iPad 5 is announced.
TVC-Mall is constantly one of the first to wholesale the miscellaneous, fashionable and useful tablet cases for the slates we are swarming to purchase, such as the iPad, iPad mini as well as the various Android-power devices. This will much facilitate the customers who would like to safeguard their brand-new gadgets with the fitting and cool cases the minute when they get them in hand or the accessories retailers to prepare the goods for the inquiring buyers.
"If you feel difficulty in finding the proper tablet cases for the newly-released iPad or Android tablets, chances are that you do not target a suitable on-line accessories store to make your purchase. Among the tons of the peripherals wholesales on line, TVC-Mall is worth your try to look for what you need." An executive from TVC-Mall said so.
There are numerous tablet cases prominent in look and attractive in price for the customers to choose from. Whatever taste the customers may have, they will be able to find the satisfying products on TVC-Mall, just take a look at the category of iPad cases where you can find the rich varieties of cases for the dominating iPad mini and full-sized iPad. The excellent delivery as well as the pre-sale and after-sale service is the key reason why the increasing customers cling to TVC-Mall to place their orders.
While most other accessories wholesalers feel content with offering the protective covers for the tablets which have rolled out in the market for a long time, TVC-Mall takes the lead to add the Galaxy Note 8.0 N5100 cases for the newly-unveiled android tablet in the market. In addition, a slew of cool iPad 5 cases can also be found here with the approaching pace for this device.
About http://www.tvc-mall.com
TVC-Mall is a reliable supplier focusing on the Apple accessories, such as the various iPhone parts and cases, iPad parts and cases as well as the accessories for other brands. Take a look at this store to find the accessories for the latest cool devices, like the Samsung Galaxy S4 cases.