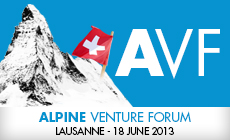 Brussels, Belgium (PRWEB UK) 25 March 2013
Europe Unlimited today announced that the Alpine Venture Forum (AVF) will be held June 18th in Lausanne, Switzerland. The forum will be an efficient occasion for the most promising Life Sciences, Clean Technology and Information Technology emerging entrepreneurs from Switzerland and its surrounding regions to meet and present themselves to active international investors and corporations seeking investment and partnership opportunities. The Forum will be an important platform to promote a dynamic and professional image of innovative entrepreneurship and venture capital of Canton de Vaud and the Alpine area to the rest of Europe.
The 40 best most promising early stage companies
Companies from across the technology spectrum of Life Sciences, Clean Technology and Information Technology based in Switzerland and surrounding regions can apply to compete to become one of the 40 selected companies. These will be chosen from a pool of over 100 applicants. Selected companies will not be charged to apply or present. The deadline for applications is April 5th.
The Jury includes Investors from Clean Tech Capital (CH) - Eurofin Ventures (CH)- Eporgen Ventures (IT) - Inventages Venture Capital Investments (CH) - Business Angels Suisse (CH) - Aloe Private Equity (FR) - Robert Bosch Venture Capital (DE) - Life Sciences Capital (IT) - BASF Venture Capital (DE) - Total Energy Ventures (FR) - OCAS Ventures (DE) - Italian Angels for Growth (IT) – Verdexus (DE)- A3 Angels (CH) - DSM Venturing (NL) – Fondamenta (IT) - Medtronic Europe (CH) - Seventure Partners (FR) - VI Partners AG (CH)- Sagl (CH)- Evonik Industries (DE) - GreenTEKventures (CH) - Emertec Gestion (FR).
For a full list of Jury Members and their biographies, visit: http://e-unlimited.com/events/view.aspx?events_pages_id=1703
Applying for the Alpine Venture Summit:

No charge for selected companies to attend the event.
Companies are selected by an Investor Jury, according to their business potential, team experience, product / technology merit, competitive position, investment or partnering interest, project profile quality.
Selected companies will be presenting to an international Investor Jury composed of Venture Capital and Corporate investors, Business Angels and relevant key industry players.
Registration
Applicants can register for the event online at http://e-unlimited.com/register/register.aspx?events_id=465. As part of the process applicants must submit an online company profile and presentation together with the registration form.
Registration deadline:

Presenting companies: 05/04/2013
Delegate registrations: 06/06/2013
Rewards for Selected Companies
The selected 40 companies will each have a 15 minutes slot to present their business plans to and answer questions from Venture Capital and Corporate investors, Business Angels and relevant key industry player. In addition, they will benefit from networking opportunities, local and international media exposure and potential opportunities to secure funding. The best 25% of presenters will be awarded and continue to European Venture Summit.
About Europe Unlimited
Founded in Brussels in 1998, privately-owned Europe Unlimited S.A. provides event and online matching platforms between emerging innovative companies and investors across Europe and its regions, sectors and stages. Its clients are governments, public-private clusters, corporate and financial investors as well as advisory firms.