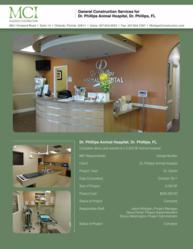 MCI completed close to 25 time sensitive projects…on time and within budget. Not once was a space turned over to a tenant late.
Orlando, Florida (PRWEB) March 25, 2013
Mulligan Constructors, Inc. (MCI), a leading commercial contractor since 2002, is pleased and honored to announce that they have been included in the Orlando Business Journal's Book of Lists as the 13th largest construction company in Central Florida for 2012.
Orlando's diverse commercial building market includes hospitality, restaurants, retail, education, government, and many smaller categories of construction. In this competitive market, MCI, has been a standout by consistently completing projects on time and within cost specifications. Additionally, MCI's focus on quality has been a factor in customer satisfaction year after year.
Construction services provided by MCI, include Design Build, Pre-Construction, Construction Management, General Contracting and Tenant Improvement. All services include MCI's complete dedication to exceeding the client's expectations.
By creating a team approach to each project, MCI is able to communicate, collaborate and complete. The Benchmark Group stated on a letter of recommendation dated February 11, 2011; "MCI completed close to 25 time sensitive projects…on time and within budget. Not once was a space turned over to a tenant late." This reputation for reliability and quality is what keeps Mulligan Constructors customers satisfied beyond their expectations.
Committed to their community as well as to their construction projects, Mulligan Constructors, Inc., is a member of the West Orange Chamber of Commerce, the Central Florida Builders Exchange, the Orlando Regional Chamber of Commerce and the Professional Alliance Group.
Future plans for the MCI include continuing the success path the company is currently on by remaining a family-owned, manageable-sized company able to service their clients in a personal manner. This commitment to excellence will ensure that clients continue to receive the utmost in services and communication. The owners are able to be involved in day-to-day activities on a personal level with their clients.
As the Central Florida area continues to grow and expand, Mulligan Contractors, Inc., intends to be a part of that growth by providing quality building services and a positive attitude towards managed growth. Providing a vision for future structures and the contracting skills to bring projects to a timely and satisfactory completion will continue to serve the Orlando commercial market well in the 21 st century. More information about Mulligan Contractors, Inc., and their contracting services can be obtained from their web site.