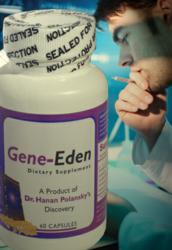 polyDNA recommends people consider taking natural remedies against HPV infections.
Rochester, NY (PRWEB) March 22, 2013
While conducting a review of antiviral literature as part of its ongoing research into natural antivirals, polyDNA this week became aware of a paper indexed on Pubmed.gov [1] that supports other research concerning the antiviral nature of ingredients found in Gene-Eden-VIR, polyDNA's anti HPV remedy. [2]
The study on Pubmed found that green and black tea polyphenols (GTP & BTP) kill HPV-positive cervical cancer cells. The study showed that green and black teas stop the cancer from spreading.
The authors of the study state that "tea polyphenols exhibit anti-cancer potential against cervical cancer by inhibition of cell growth and induction of apoptosis." [3]
Apoptosis is programmed cell death, which means the tea polyphenols make harmful HPV-positive cervical cancer cells destroy themselves before they become a tumor.
This comes as good news for many women, as the Center for Disease Control and Prevention (CDC) estimates that "the overall HPV prevalence was 26.8% ... among US females aged 14 to 59 years." [4]
polyDNA recommends people consider taking natural remedies against HPV infections. One such HPV remedy is Gene-Eden-VIR.
Gene-Eden-VIR includes green tea as an ingredient and was scientifically designed to help the human body maintain low concentrations of the dormant or latent Human Papillomavirus (HPV).
To learn more about Gene-Eden-VIR, the only all natural product on the market today that helps the body target latent HPV, and that is scientifically backed by published material, visit http://www.gene-eden-kill-virus.com.
References:
1. http://www.ncbi.nlm.nih.gov/pubmed/22019724
2. http://www.gene-eden-kill-virus.com/studies.php
3. Singh M, Tyagi S, Bhui K, Prasad S, Shukla Y. Regulation of cell growth through cell cycle arrest and apoptosis in HPV 16 positive human cervical cancer cells by tea polyphenols. Invest New Drugs. 2010 Jun;28(3):216-24.
4. Dunne EF, Unger ER, Sternberg M, McQuillan G, Swan DC, Patel SS, Markowitz LE. Prevalence of HPV infection among females in the United States. JAMA. 2007 Feb 28;297(8):813-9.
###
polyDNA is a biotechnology company that develops dietary supplements using the unique scientific method developed by Dr. Hanan Polansky, which is based on Computer Intuition.
In addition to his unique scientific method, Dr. Polansky published a book on his scientific discover entitled, "Microcompetition with Foreign DNA."