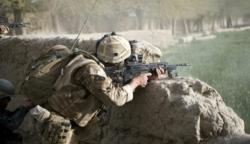 We estimate that the savings of over £16,000 per annum will see the scheme pay for itself in just under 15 months.
(PRWEB UK) 25 March 2013
CarillionEnterprise (C-E) is achieving savings at Beachley Barracks as part of the Ministry of Defence's (MOD) energy Spend to Save programme that involves investing in projects throughout the Defence estate to achieve significant reductions in its £1 million a day spend on heat, light and power.
The savings at Beachley are being achieved by the introduction of 12 variable speed drives on ventilation systems and boilers across the site to regulate the speed, flow of water and air.
Kevin Muttitt, Energy Implementation Manager at C-E says, "The variable speed drives have been introduced as one of seven key energy reduction technologies forming part of our 2012/13 Spend to Save programme of works. We estimate that the savings of over £16,000 per annum will see the scheme pay for itself in just under 15 months."
C-E manages the site for the Defence Infrastructure Organisation (DIO), the MOD's property and services provider. It appointed specialists to survey the site and produce a detailed analysis of all the drives that could be controlled. The equipment chosen included Invertek Optidrive HVAC and fan-pump inverters. A total of 12 inverters were installed on various fan and pump applications with motor frequencies/ speeds typically reduced from 50 hz to between 35 and 40hz, easily meeting the project objectives of a minimum 20% reduction.
Kevin said, "Installing the inverters provided less mechanical stress on belts and couplings as the inverters offer an inherent soft start and soft stop for the load under control. As an example a 15kw hot water circulation pump running at a load of 14.7kw, 50hz operation, had its frequency reduced to 40hz and the load dropped to 7.4kw, achieving a 50% reduction."
Steve Setterfield, Assistant Site Estate Delivery Manager said, "The variable speed drives were installed in Beachley as part of several sustainability initiatives. The work was carried out through the summer months when disruption to heating would be at a minimum. To date there has been no noticeable drop in performance and we are already seeing a reduction in energy use."
C-E is managing an extensive variable speed drives programme roll out across 25 of the Establishments it manages for DIO.
Ends
CarillionEnterprise provides integrated business, construction and maintenance services to the defence sector. With an exceptional reputation for sustainability and health & safety, it also has a unique business model designed to continuously improve value for money and the quality and delivery of services.
The joint venture between Carillion plc and Enterprise plc was created in 2005 to deliver the Regional Prime Contract for DIO across the Central Region of the UK, which includes North East, North West, Yorkshire and Humberside, West Midlands and Wales.
DIO is part of the MOD. It is responsible for managing and maintaining land and properties to meet the current and future needs of the MOD and personnel at home and abroad, and to support current operations.
Its work includes providing, supporting and improving: operational units; single living and service family accommodation; training areas and historic military sites. DIO actively manages these to ensure the needs of Defence are met, value for money achieved; heritage protected and environmental goals achieved.
Picture caption - A soldier from C Company 1st Batallion The Rifles (1 RIFLES) takes up a firing position whilst on patrol in the Nawa area of Helmand, Afghanistan. Now the regiment also has its sights set on major energy cost savings. Picture courtesy Crown Copyright. A high resolution version of this picture is available on request
Issued by Comms Team on behalf of CarillionEnteprise - for further information:
John Davies, Comms Team Limited 0-178-584-0180 mobile 0-780-291-7952
email john(at)comms-team(dot)com