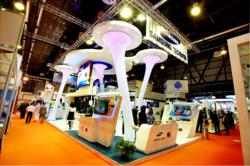 "Our passion, creativity and attention to detail ensure that our Exhibition stands engage, touch and inspire the audience".
Dubai (PRWEB) March 25, 2013
In a market saturated with competition it is essential go beyond having just a showstopper stand, its essential to have effective marketing tools that achieve the business objectives and ensure maximum ROI for clients exhibition investment. Strokes exhibits is now designing & building exhibition stands with marketing tools not just with pillars & structures, The art of stand building is now being crafted with the science of marketing tools.
Why are the exhibition stand design created by a boutique exhibition company like Strokes resulting in more than just 'Best Stand Design', awards for clients? In today's market every exhibitor is looking at making their event participation measurable with a clear return on investment. The Strokes proprietorship plan is: 'Through planning and the 360 degree application of marketing tools on both offline & online channels'. This strategy of using marketing tools to design is the edge that leads to a successful exhibition presence and maximum return on the Exhibition stand investment.
With decades of experience and understanding of Dubai Exhibition market sensitivities and sensibilities and a lean mean strategic and creative team Strokes delivers sharp marketing and creative strategies with results that can be measured. A live Exhibition design & Fabrication company Strokes specializes in creating a complete marketing plan for clients of which stand design and build up is only a part. With a a team-based approach that ensures the cross-pollination of ideas and insights and a professionally qualified team, Strokes Exhibits draws on the marketing strengths of the Strokes Group to deliver maximum value to its clients.
Fully equipped self-owned workshops with state-of-art equipment, extensive experience in Exhibition stand design,stand building & exhibition stand storage facilities are the cornerstones of providing clients with turnkey solutions for exhibition stand management to exacting standards. The effective use of graphics and striking images also helps to creates a lasting impression. Through meticulous planning and a passion to exceed client expectation is what results in a seamless exhibition experience for clients and to create 'wow' live communications that win awards and accolades for all.
Strokes exhibits has an impressive portfolio with clients such as Samsung, Panasonic, Mashreq Bank, Barclays Bank, Petrofac etc. featuring in it. It is noteworthy to mention that Strokes has been servicing an industry giant like Samsung for the past 4 years and at the Intersec Exhibition 2013, their double-decker stand with its unique satellite feature won them the 'Best stand design' award. Through planning that included brainstorming on the marketing elements and an outstanding design was the key to delivering optimum ROI on their exhibition investment. The creative design ensured equal prominence for the wide range of products & services showcased in it, while ensuring that design consistency and brand recognition ran throughout the stand and beyond.
Steve Jobs said, 'Innovation distinguishes between a leader and a follower'. This seems to be the inspiration that leads everything done at Strokes Exhibits, this must be the inspiration that builds many a success story at Strokes Exhibits.
For more details about the company log onto http://www.strokesexhibits.com. Strokes Exhibits can also be checked out on http://www.linkedin.com/company/strokes-exhibits-llc