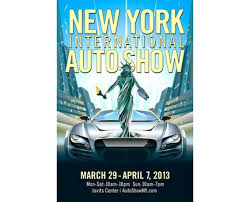 The New York International Auto Show has taken place since 1900. The NY Event is the oldest of its kind.
New York, NY (PRWEB) March 21, 2013
The New York International Auto Show has been taking place since 1900. That's pretty impressive considering that there were only 8,000 cars on the road at that time. While cars were still only for the very rich, many people were fascinated with them, so the car show was born. Many Times Square Hotels, such as the Manhattan at Times Square Hotel, prepare for the influx of visitors by creating their, 'Valet. Stay. Save. Package' - Guests Save 50% off Valet Parking Rates and save 30% off the best available room rates! View details > or Book now >
New York has the claim to fame for many firsts: First escalator in a retail store, first pizzeria in the United States and, as any car buff worth his weight in transmission fluid knows, the first car show.
Today, there are about 250 million cars registered in the United States and the numbers of people who want to see the latest in the automobile industry has grown as well. More than one million people attended the 2012 New York International Auto Show, and just as strong a showing is expected for the 2013 show.
Guests of The Manhattan can simply step out of the hotel's lobby and they are a short walk from Javits Convention Center where The New York International Auto Show.
While car enthusiasts certainly make up a good number of attendees, this New York event has something to interest everyone. Even those who don't eat, sleep and breathe diesel fuel to can appreciate this show. A major appeal of this New York event is the opportunity for car enthusiasts to get an up close look at all the newest cars, trucks and other vehicles all in one location without having to deal with pushy salespeople found at the dealerships. Those in the market for a new vehicle can look at the offerings and narrow down their options. The prices are displayed right in the window of most vehicles.
The New York International Auto Show also has many special exhibits and fun activities as well. Attendees can enjoy the Gartel Art Car and The Dub Show Tour, which features amazing custom and exotic cars as part of the New York International Auto Show.
One of the most popular features of this New York event is the Camp Jeep Outdoor Off-Road Ride Along. Attendees can see first-hand how a Jeep handles various types of terrain. This exciting activity is included in the cost of admission to the auto show.
For those who like to plan ahead, the dates for the 2014 New York International Auto Show are April 18 to April 27 2014. Gentlemen, start your engines!
New York International Auto Show Information:
When: March 29 to April 7, 2013 - Monday through Saturday from 10 a.m. to 10 p.m. and Sunday from 10 a.m. to 7 p.m.
Where: Jacob K. Javits Convention Center
How Much: $15 adults, $5 children
About Manhattan Hotel – A New York Hotel:
The best feature of this luxury New York Hotel is the location - set in the heart of New York's Times Square, and close to all things that make New York one of the world's most popular destination cities; New York Attractions, Activities, Broadway Shows, New York Shopping and much more. The Manhattan Hotel is located just 2 blocks from Rockefeller Center and 4 blocks from MoMA and just blocks from Empire State Building and more.
This 3.5 Star New York hotel features 659 spacious, well-appointed, non-smoking Guest Rooms and Suites are available on 22 floors and offer every amenity a Business Traveler or Leisure Guest will need for a memorable stay in New York City.
Visiting New York soon? Consider The Manhattan - A New York Hotel; Check rates, Make Reservations or call: 800-610-5386.
For informative New York Travel Articles, visit The Manhattan Hotels New York Hotel Blog.