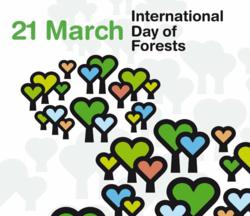 Next year AFOBI will organise something special.
London (PRWEB UK) 21 March 2013
When International Forest day was established in 2007 there were numerous events around the world. In the UK these included tree planting activities, educational outreach workshops in schools and benefit concerts. AFOBI is a retailer of timber furniture produced from sustainable forestry, including fitted bathroom units, luxury coffee tables and large bookshelves. "We had expected there would be events to take part in around the UK. Sadly we were mistaken," comments Zack Newman, director of AFOBI.
Forest day is taking place at the same time as the 18th session of the Conference of the Parties to the United National Framework Convention on Climate Change (UNFCC). The aim of this conference is to agree on the international agenda on forests. A major theme of the discussion will be the 'Reducing Emissions from Deforestation and Forest Degradation program' (REDD+). This is a system whereby countries receive payments in order to conserve forests, thereby reducing the quantity of carbon dioxide released into the atmosphere through deforestation. REDD+ is also supposed to produce social benefits for the 1.6 billion people who livelihoods depend on forests. Perhaps this important conference has meant that many organisations have overlooked International Forest Day.
Forests are threatened habitats. The world loses around 13 million hectares of forest every year. Land clearance for agricultural is responsible for approximately 80% of this deforestation. It is estimated that deforestation results in approximately 20% of C02 released into the atmosphere by humans. This is the equivalent to all the vehicles in the world. "Forests are extremely important," comments Zack Newman. "Along with the seas they provide the air we breathe. They provide environmental services by absorbing pollution and supporting biodiversity. They help to regulate the weather and secure the soil. They provide food and timber. International Forest Day should be a significant event. Next year AFOBI will organise something special."
So what can you do if you want to celebrate forests today? Perhaps the simplest way to observe the day is to visit a local forest. The UK the Forestry Commission website has plenty of information on local forests.
To comment click here. Photos of tree planting or forest visits can be sent to info(at)afobi(dot)com.