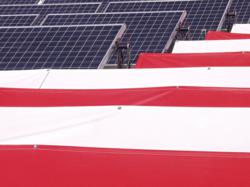 USA (PRWEB) March 22, 2013
Solar power in USA will be getting a boost with additional funding to support research, manufacturing and development in 2013.
In the past, the US Department of Energy devoted a portion of its budget to fossil fuel subsidies. Since these energy sources are largely controlled by some of the wealthiest companies, it has made little sense to divert resources into supporting them. However, future interest centers around cleaner technologies, such as solar power, that will improve both the environment and economic growth. The success enjoyed by many homeowners have had in utilizing solar power in USA has served as a model for larger projects.
The Copper Mountain Solar 1 Facility in Nevada is just one example. More than 60,000 households receive electricity in this manner. Planning is underway to construct two more facilities in the next few years.
The government has always had an interest in solar power in the USA. Since taking office, President Obama has nearly doubled investments nationwide. As a clean, viable alternative to fossil fuel energy, the industry is poised for astronomical growth over the next few years. Peak Solar is active in encouraging congress to continue to support solar initiatives that will further reduce cost and improve the average American's access.
1-805-Solar-81 or
JrBucher(at)PeakSolar(dot)com
About Peak Solar:
The Peak Solar team has over four decades of experience in solar development and engineering. Together, they are working to make the science of solar energy a reality for average Americans. In addition to supplying photovoltaic systems, power inverters, DIY solar kits and components for residential applications, the company is a provider for large scale commercial projects and development.