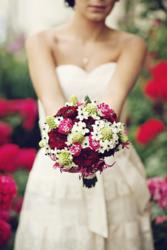 Atlanta, GA (PRWEB) March 22, 2013
Peachtree Petals, a recognized leading Atlanta wedding florist specializing in premium floral arrangements and wedding floral decor services, announces their bridal follow-up initiative. The call initiative is in an effort to increase conversion of bridal interest to wedding consultation appointments and increase wedding floral sales growth. Peachtree Petals pursues to be the best choice for wedding floral services and floral decor nationwide.
Sales leads for soon-to-be brides who have expressed interest in Peachtree Petals wedding floral services will be contacted utilizing their customer service staff, with a goal of scheduling a free wedding consultation. Each representative will make 10 calls per day. In the event no one answers, the customer service representative will leave a message cordially inviting the bride to call Peachtree Petals to set up their free consultation.
Customer service will also inform brides they may also visit http://www.peachtreepetals.com and schedule their free wedding consultation on the voice mail as well. The results of their calls will then be notated in the florist's customer relationship management software for continual monitoring and updating for interoffice use. Appointments will be set between 7AM and 4PM Monday through Friday and 8AM-1PM on Saturdays.
Peachtree Petals has risen in popularity and become a well-known Atlanta florist. The florist's attributes its' growth to not only general operational sales, yet also exposure via online wedding companies such as Wedding Wire and David's Bridal. Peachtree Petals won the 2013 Wedding Wire Bride's Choice Award, which is a high floral recognition. This award officially markets Peachtree Petals as one of the top florists in the industry nationwide.
Peachtree Petals is a recognized leader of superior floral arrangements and honored Master Florist throughout the US. Their floral designers have over 50 years of experience and create stunning floral arrangements. Peachtree Petals has its' very own staffed Atlanta floral wedding consutlant to meet their clients' needs. Based in Atlanta, Georgia, Peachtree Petals services a growing list of clients, including company floral subscriptions and weekly floral services.