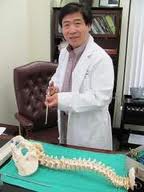 With a minimally invasive procedure, we can accomplish the same objectives—relief of the pressure on the nerve and a resolution of symptoms—while doing far less damage to the surrounding tissue
West Orange, NJ (PRWEB) March 28, 2013
When someone talks about sciatica, a type of back pain that radiates down through the buttocks and legs, they're describing a set of symptoms, not an actual condition, says Kaixuan Liu MD, PhD, chief surgeon at Atlantic Spine Center in West Orange, N.J. When treatments fail to relieve the sciatic nerve pain, sciatica surgery is required to decompress the nerve to relieve symptoms. Unfortunately, in most circumstances, aggressive open back surgery is often performed when it is not needed. New endoscopic techniques are able to treat most of the underlying causes of sciatica without needing to resort to older barbaric surgeries that are associated with large incisions, cut and torn muscles, and a large loss of blood.
In about 90 percent of cases, Dr. Liu explains, sciatica is caused by a herniated disc in the spine. In other cases, it may be the result of an injury, an abscess or tumor, spinal stenosis (a narrowing of the spinal canal), spondylolisthesis (a "slipped disc"), or piriformis syndrome (a tightening or spasm in a muscle deep in the buttocks). Some women also develop sciatica when pregnant, as the growing fetus compresses the nerve. Risk factors include age (people between 30 and 50 are most susceptible), obesity, occupation (routinely carrying heavy loads or driving for long periods), having diabetes, and lifestyle (smoking, being sedentary or stressed-out).
The good news is that, in most cases, an episode of sciatica will go away on its own. Dr. Liu notes that the vast majority of patients get better without surgery, most within six to 12 weeks. Self-care treatments such as alternating cold and hot packs, stretching, exercise, and over-the-counter pain medications are often effective. And while the experts used to recommend bed rest for people with sciatica, we know now that a program of targeted exercise and limited rest has much better results, Dr. Liu adds.
Sciatica surgery
However, if sciatica pain persists more than two or three months (or if it's accompanied by muscle weakness and other serious symptoms), sciatica surgery may be required. This can be either an open procedure, in which the surgeon makes a large incision to gain access to the affected area, or a minimally invasive procedure using endoscopic techniques (and involving a much smaller incision). While success rates for both procedures are about equal, Dr. Liu notes that minimally invasive procedures are associated with less pain and faster recovery.
"With a minimally invasive procedure, we can accomplish the same objectives—relief of the pressure on the nerve and a resolution of symptoms—while doing far less damage to the surrounding tissue," Dr. Liu explains. "In most cases," he says, "the patient will be back on his or her feet in a fraction of the time."
About Dr. Liu: Kaixuan Liu, M.D., Ph.D., is a renowned endoscopic spine surgeon and founder of Atlantic Spine Center in Edison, New Jersey (http://www.atlanticspinecenter.com).Dr. Liu is certified by The American Board of Pain Medicine and The American Board of Anesthesiology, and is a member of The International Society for Advancement of Spine Surgery, The American Society of Interventional Pain Physicians (ASIPP), The American Academy of Pain Medicine (AAPM), The International Intradiscal Therapy Society (IITS), and The American Society of Anesthesiologists (ASA). He also serves as an international surgeon for The Spinal Foundations in England.