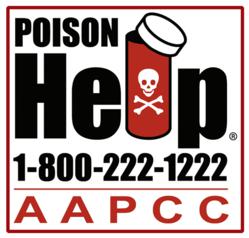 No one wants to endure the heartbreak caused by something preventable.
Alexandria, VA (PRWEB) March 21, 2013
Because more than 90 percent of poisonings happen in the home, the American Association of Poison Control Centers is reminding Americans to make sure their homes are safe from poisons, according to Amy Hanoian-Fontana, community education specialist with the Connecticut Poison Center.
"Most poisonings that happen in the home are wholly preventable," Hanoian-Fontana said. "National Poison Prevention Week is a good time for people to check their homes to see if all medicines, household cleaners and garden chemicals are stored up and away where children cannot see or reach them."
Since 1962, the third week in March has been designated National Poison Prevention Week and has focused national attention on the dangers of poisonings and how to prevent them. America's 57 poison centers are committed to safeguarding the health and well-being of every American through poison prevention and free, confidential, expert medical advice.
Poisoning is the second leading cause of unintentional death in the United States, behind only motor vehicle accidents. According to the AAPCC, the majority of home poisonings occur in the kitchen, bedroom and bathroom.
Poison center experts encourage everyone to take the following steps to make sure your home is poison-safe:

Close caps on medicines, vitamins, herbal supplements and other products immediately after use, and listen for the "click" to make sure the product is closed properly.
Keep all medicines (including vitamins and herbal supplements), household cleaning products, and garden chemicals up high where children can't see or reach them.
Never store home or garden chemicals in food containers like bottles or cups. Keep them in their original containers with the labels intact.
Never mix household cleaning products together. Mixing them can cause poisonous gasses.
Call your local poison center immediately if a button battery or a magnet is missing from a toy or other item. Button batteries and magnets can both be deadly if swallowed by a child.
Install a carbon monoxide detector and check the batteries twice a year.
Follow the directions on pesticide labels, and be sure to remove children, pets and toys from the area until they can return safely.
Periodically go through your medicine cabinet and safely dispose of old, expired or unneeded medicines.
Post the Poison Help number by your home phone and program it into cell phones: 1-800-222-1222.
"Because so many poisonings happen in the home, use this week to go through your home and remove poisoning hazards," Hanoian-Fontana said. "No one wants to endure the heartbreak caused by something preventable. Take action to secure potential poisons and remember that child-resistant is not the same thing as child-proof. If your child can see it, assume that he or she can reach it."
For more information, contact Loreeta Canton, director of public relations and member services for the American Association of Poison Control Centers, at 703.894.1858 or canton(at)aapcc(dot)org or visit http://www.aapcc.org.
About the American Association of Poison Control Centers:
The AAPCC supports the nation's 57 poison centers in their efforts to treat and prevent drug, consumer product, animal, environmental and food poisoning. Members staff the Poison Help hotline at 1-800-222-1222 that provides free, confidential, expert medical advice 24 hours a day, seven days a week, 365 days a year from toxicology specialists, including nurses, pharmacists, physicians and poison information providers. In addition, the AAPCC maintains the only poison information and surveillance database in the United States, providing real-time monitoring of unusual poisoning patterns, chemical exposures and other emerging public health hazards. The AAPCC partners with federal agencies such as EPA, HRSA and the CDC, as well as private industry.
To learn more, visit http://www.aapcc.org, like us on Facebook, follow us on Twitter, or read our blog at aapcc.wordpress.com. To join your voice with other poison center supporters, register for the AAPCC advocacy network at http://www.capwiz.com/aapcc – click on "Action E-List."
– 30 –