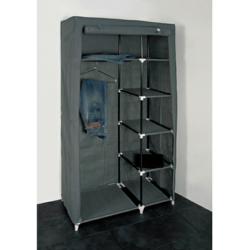 Furniture In Fashion Announced the launch of Storage Unit with Cover for Organizing Home
(PRWEB UK) 22 March 2013
FurnitureInFashion, in its pursuit to design and supply contemporary and unique storage furniture, is proud to announce the launch of new Storage Unit with cover. The new Storage Unit with cover is now available for sale and to have a look at it at their showroom located in Bolton. Well-known for using only the most innovative techniques and finest materials, FurnitureInFashion has built a loyal and strong customer base through its commitment to service and quality. This Storage Unit with cover has been designed to help customers get the maximum utilization of their storage space, making their home more enjoyable, attractive and user-friendly to live in.
FurnitureInFashion has launched this Storage Unit with cover in the market realizing the fact that now there is a strong demand for space saving storage units among people. In addition, people are always looking for cheaper storage solutions. This Storage Unit with cover is not only very functional but is affordable at the same time.
The spectacular Storage Unit with dust resistant cover has been designed by taking into account the storage requirements of a bedroom. This innovative Storage Unit has a stair design along with hanging unit at the inner side of the Storage Unit. It has an attractive as well as unique finish. The dust resistant cover of this Storage Unit makes it an ideal solution for storing clothes. This Storage Unit can be used in a living room to store CDs/DVDs. It can also be used to store clothes in a bedroom. This beautiful Storage Unit is also ideal for office to store document files. The Storage Unit has five shelves with excellent cover coating that gives a touch of contemporary furnishing at home. A more compact effect can be added to a room with this sleek five-shelved Storage Unit.
Asad Shamim, Managing Director of FurnitureInFashion, said, "FurnitureInFashion is well aware that most homeowners are usually too worried to manage and organize life and to remove mess and clutter. Organizing life with FurnitureInFashion's cutting edge storage solutions can give customers a lot of convenience. This Storage Unit with cover is ideal for providing storage solution to any room of the house. FurnitureInFashion has used the finest materials in the manufacture of this beautiful and contemporary Storage Unit."
FurnitureInFashion is well-known for providing convenient furniture storage for homeowners. The company has well established reputation for providing excellent service to the clients. FurnitureInFashion offers an extensive range of storage solutions in most contemporary and modern designs.
Managing Director of FurnitureInFashion said, "FurnitureInFashion is well-known for specially designed delivery and pick up systems as it provides safer handling in tight spaces as well. The containers of FurnitureInFashion are purposefully built to protect the items. The company takes minimum possible time to deliver the furniture items with excellent after sales services. For residents of the UK, the home delivery service is free."
FurnitureInFashion has used the German manufacturing processes to fuse the Italian design concepts. The company offers contemporary and modern furniture for all rooms along with other accessories. The company is famous for offering unique furniture collections and ranges at affordable prices.
To have a look at this new Storage Unit with cover and to place a pre-stock order, please visit the company website today at http://www.furnitureinfashion.net. The range of storage solutions at the website is huge, delivery is fast, savings are massive and the quality is guaranteed.
About FurnitureInFashion
FurnitureInFashion is a UK based online retail business. It supplies furniture items from its German based warehouse and has a showroom in Bolton, UK. The company provides everything from umbrella stand, wall art and room dividers to bedroom, bar stools and computer tables. FurnitureInFashion offers excellent free delivery within UK and has a fantastic customer service as well. For further information and details about the sale, please visit http://www.furnitureinfashion.net.