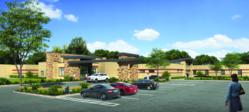 Expansion and renovation of our current facility allows RHS to provide county residents excellent care in an environment that is designed for today's technology and patient expectations.
Cresco, Iowa (PRWEB) March 22, 2013
Campaign organizers and lead donors gathered at Regional Health Services of Howard County (RHS) in Cresco on Friday, March 22, to kick off the RHS capital campaign, themed "Create Tomorrow's Care." Board members, RHS staff, donors and other dignitaries took turns breaking ground in a brief ceremony northeast of the existing facility.
The fundraising campaign will raise private donations to make improvements to the existing facility, as well as expand the size of the hospital. The total cost of the project is $16 million, with $2.5 million being raised through the capital campaign. The project includes 21,000 square feet of renovations and more than 18,000 square feet of new construction, and is scheduled to be completed by the spring of 2015.
Patient privacy will improve with private inpatient suites, a waiting area for lab and radiology, and registration check-in kiosks located inside the new main entrance. The new southeast entrance also has a canopy for covered patient drop-off and pick-up.
"Expansion and renovation of our current facility allows RHS to provide county residents excellent care in an environment that is designed for today's technology and patient expectations," said Robin Schluter, CEO of RHS. "RHS is committed to providing the best care available close to home for all of our area residents."
The planned renovations of the current facility include transforming existing semi-private patient rooms into larger private suites to provide patients and family members with a more comfortable environment to rest, heal and recover. These new rooms will include handicap-accessible bathrooms and showers, more space for storage and updated heating and cooling systems. RHS will also add a family suite—complete with a kitchenette, restroom, child's play space, TVs and two sleeping areas—for family members of surgery, obstetrics and hospice patients to stay any time of the day or night.
"We have outgrown our current facility," said Donna Thomas, campaign tri-chair. "In order to accommodate the number of people who use the hospital's services, we need a new facility that will grow with us."
In addition to larger private suites, the hospital also plans to better equip the facility for more outpatient services, including larger rehabilitation therapy areas and surgical suites.
"Our hospital and this campaign are critical to our community, and I'm pleased to announce that we have already raised more than $1.5 million of our $2.5 million goal," said Dan Evans, campaign tri-chair. "We are thankful for our lead donors who have committed generous gifts to get us to this point. The new facility will serve the needs of our growing community and provide the care that we need in a local and convenient location."
Lead donors made oversized-check presentations to Schluter and RHS Board of Trustees Chair George Willis, who applauded their generosity. These donors include the Lundak family, Amy Bouska, C US Bank, Cresco Bank & Trust and the staff, trustees, foundation and auxiliary of RHS. The RHS staff alone has contributed more than $161,000.
RHS is a nonprofit hospital and is receiving no tax funding for this expansion or renovation. The project is being financed through hospital revenue bonds, and the $2.5 million capital campaign is included in the financing of the project.
"A gift to this campaign really is an investment in the future of Howard County," said Ronda Hughes, campaign tri-chair. "This campaign will give patients peace of mind, knowing that their medical center is state-of-the-art and will be able to provide the care they may need someday."
The campaign kickoff marked the start of the public phase of the campaign, and Hughes encouraged people to consider creative ways to give to the project. She told attendees they could make cash gifts or pledges; give gifts of grain, stock or life insurance; or explore utilizing IRA rollover funds.
In addition to Evans, Hughes and Thomas, other members of the campaign steering committee include Pat Boyle, Carol Burnikel, Don Davis, Tim Felderman, Jerry Ferrie, Katie Hudek, Dr. Paul Jensen, Wayne Kerian, Barb Prochaska and Max Schmidt. Jack Thomson is serving as honorary campaign chair.
About Regional Health Services of Howard County
Regional Health Services of Howard County is located in Cresco, Iowa. Since 1902, Regional Health Services of Howard County has offered a consortium of healthcare services to the residents of Howard County and the surrounding area. For more information about the campaign or to make a donation, contact Sue Heimerdinger at 563-547-6345 or HeimerdS(at)MercyHealth(dot)com.
###