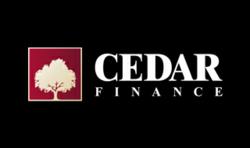 We are so very happy about this honor. We are working hard to improve our plaftorm and it is very rewarding to be appeciated in this very competitive industry
Nicosia, Cyprus (PRWEB) March 26, 2013
All brokers praise the benefits and efficiency of their respective platforms. This is why it is best to conduct independent research and read reviews from unbiased sources when choosing a binary options trading platform. Eight top-rated review sites rank Cedar Finance as the number one binary options trading service available today.
"We are so very happy about this. We are working hard to improve our plaftorm and it is very rewarding to be appeciated in this very competitive industry," says Cedar Finance CEO, Mike Weber.
Since its launch, Cedar Finance has received international recognition for its experienced brokers, diverse trading possibilities, and security protocols. Their crowning achievement is the first place in a binary options platform ranking, which confirms the quality of Cedar Finance.
The platform's advantages that are most often mentioned in the rankings are its simplicity, security, and high returns on investments.
"Cedar Finance offers return percentages of as high as 81% on binary options trades that end in the money. The lowest payout percentages offered are between 65-75%. Additionally, once a week, a high-yield One Touch trade will be available with a payout percentage of as high as 500%." - MasterBinaryOptionsTrading.Com
Another underlined feature especially important for traders was the desire to constantly develop the platform. The common conclusion was that Cedar Finance is a platform built by traders for traders.
"Cedar Finance is committed to continuous improvement. They are consistently expanding the deposit options, the asset range, the innovative trade features, and improving the user experience. This is certainly a company that listens to its trading community, and one that is set to continue to attract beginner traders and experienced traders alike." - Intellitraders.Com
It is difficult to find two or three people who can agree on any given subject. But it is possible, even for eight independent sites to consent on one matter – the best binary options service available. Full list of reviews is available here.
ABOUT CEDAR FINANCE
Cedar Finance is the most professional and objective platform for trading Digital Options online, offering clients an easy and 100% secure way to trade all major assets - forex, commodities, indices, and stocks. As a pro-consumer institution it provides personal account managers, background information about the markets, a guided tour, seminars, one-on-one training, live chat, and 24/7 phone and technical support. Since the beginning, Cedar Finance has built a loyal base of clients by drawing upon its expertise in providing intuitive software and exceptional services for trading Digital Options.
ABOUT BINARY UNITED
Binary United is a leading binary options affiliate program whose representatives boast 10 years of experience in the trading and affiliate businesses. The company offers the only multi-software affiliate program available on the market. They offer the best selection of binary options trading brokers and have at their disposal a state-of-the-art proprietary Affiliate Back Office. It consists of a professional and dedicated team of friendly and accessible affiliate managers who make sure every Client is followed with a phone call from a senior broker.