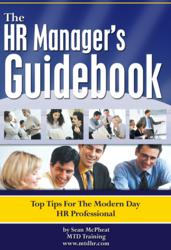 We wanted to create something of real value for the HR industry, which was based on the real-life thoughts and opinions of HR professionals today. - MTD's MD Sean McPheat
(PRWEB UK) 25 March 2013
Human resource specialists, MTD HR Consulting (http://www.mtdhr.com) have recently launched their new 20 page, research-based HR Manager's Guidebook which includes top tips, techniques and tools to help HR professionals across the UK develop their skills and change the way that their department is viewed within their company.
The Guidebook was written by MTD HR's Managing Director Sean McPheat, who is widely regarded within the industry media as a leading authority on modern day human resource management and training.
To compile the Guidebook - which discusses everything from social media recruitment through to getting a buy-in from senior management for training and development - MTD surveyed over 80 HR Managers who are members of his online HR resource centre http://www.hr-managers.co.uk to find out exactly how modern day HR professionals see their role today and to try and understand what issues and problems the HR profession as a whole is facing in today's modern business world.
From the results of the survey, MTD were able to determine what key skills the modern day HR professional needed to be successful in their role and highlight some of the latest HR tools and technologies which will enable this development.
The results of the survey also showed how and why the role of HR is changing within modern day businesses, and from that MTD were able to create the Guidebook which would educate modern day HR Managers on how they can provide real value to their companies by transforming their HR department from a stand-alone sector within the organisation to a highly-valued, strategic business partner.
Speaking about the process behind the creation of the Guidebook, Sean McPheat said:
"We wanted to create something of real value for the HR industry, which was based on the real-life thoughts and opinions of HR professionals today. Over the years there has been a great deal of research conducted into the role of HR within a company, but this research seems to be based on old theories and out-of-date opinions. We wanted to create something that would really speak to the modern HR Manager of today, and show them how they can transform the role of HR within their company to really provide value to their organisation as a whole."
The HR Manager's Guidebook was formally released to the public at the beginning of March this year and already over 200 HR Managers and Directors have downloaded the report.
McPheat commented, "We have been thrilled with the response we have had to the Guidebook and it makes all the hard work and hours of research worthwhile when you realise just how influential it has become for the HR professionals who have downloaded it so far."
To download a copy of MTD's HR Manager's Guidebook visit: http://www.mtdhr.com/hr-managers-guidebook/. For more information about MTD HR Consulting please visit: http://www.mtdhr.com.