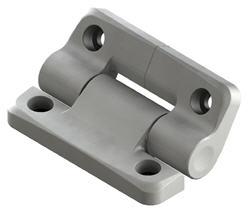 'One-way' eliminates resistance to upward adjustment, without compromising holding force in the downward direction.
Saint Paul, MN (PRWEB) March 29, 2013
Reell Precision Manufacturing, a world leader in small package position control, is proud to announce the PH-35 positioning hinge.
Available with torques from 50 to 100 lb-ins, the PH35 is Reell's highest torque positioning hinge. It combines the holding force needed for large applications with the smooth quality feel and superior long-life performance of Reell's patented ReellTorq® technology.
The PH35 also features Reell's patent-pending 'One-way' torque technology, which eliminates nearly all resistance to upward movement, without compromising the full holding force in the downward direction.
This combination of high holding force and easy 'One-way' adjustment make the PH35 well suited for heavy-duty vertical mounting applications.
Global Product Line Manager John Schannach sees a wide variety of applications for the PH35. "The PH35 is well suited for heavy duty applications such as industrial enclosures, test chambers with large or heavy access panels, office equipment, medical devices and large flat panels monitors and computer peripherals."
With either a plain zinc or matte black finish, the PH35 is an attractive alternative to more complicated positioning solutions such as prop rods, gas struts and spring lifts. A fully qualified life of over 20,000 cycles provides a lifetime of elegant high-performance positioning.
The PH35 is available now. Please contact your Reell representative to request a sample or for more information.
Reell Precision Manufacturing provides high-quality innovative solutions to transmit torque, control angular position and protect delicate components from excessive force. Combining the worlds most precisely controlled torque technology with the industry's most experienced engineering team guarantees a perfect product fit for your application. With facilities on three continents, Reell's responsive global customer service and world class manufacturing ensures exceptionally easy ordering and on-time delivery.
Follow Reell on twitter: @reell