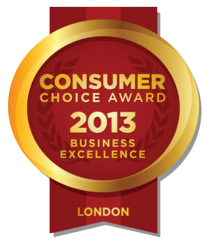 These award-winning businesses were chosen by London area consumers for their superior customer service and dedication to business excellence.
(PRWEB) March 22, 2013
Consumer Choice Award is thrilled to announce the 2013 Top Service Providers in their respective sectors for the greater London area. We would like to extend heartfelt congratulations to all this year's winners; your dedication to superior service has resonated with the people of the city of London.
Each year across Canada, Consumer Choice Award gathers opinions, perceptions and expectations through the responses of thousands of consumers and businesses. All winners have gone through a rigorous selection process conducted by a third party research firm to ensure only the most outstanding service providers are the winners within their respective industry. Find the list of Award Winners below:
BUSINESS
FAMILY SERVICE THAMES VALLEY: CREDIT COUNSELLING PROGRAM
Credit & Debt Counselling
125 Woodward Avenue
London
519-433-0159
LARLYN PROPERTY MANAGEMENT LTD.
Property Management
540 Wharncliffe Road South
London
519-690-0600
METROPOLITAN MAINTENANCE
Janitorial Service
163 Stronach Crescent
London
519-679-8810
NOTHERS SIGNS & RECOGNITION
Promotional Products
323 Horton Street
London
519-663-9440
PAUL J. PICKERING LIMITED
Bankruptcy Trustee
111 Waterloo Street
Suite 501
London
519-672-2494
STRATHROY AUDIO VIDEO
Audio Visual Services
5 Front Street West
Strathroy
519-245-2534
CONSTRUCTION
ALUMINUM ASSOCIATES
Siding & Eavestroughs
1801 Trafalgar Street
London
519-453-6400
BEACHCOMBER HOT TUBS LONDON
Hot Tubs, Spas & Saunas
775 Wharncliffe Road South
London
519-681-0249
BERNARDO GROUP LTD.
Marble & Granite Dealer
580 Horton Street
London
519-438-5159
WINMAR LONDON
Restoration Services
175 Stronach Crescent
London
519-451-0000
EVERYDAY LIFE
DANCE EXTREME INC.
Dance School
312 Commissioners Road West
London
519-657-3262
NASH JEWELLERS
Jeweller
With 2 Locations To Serve You
London
519-672-7780
HEALTH & FITNESS
EVANESCE MEDISPA
Laser Hair Removal
515 Wharncliffe Road South
London
519-438-8192
LASIK MD
Laser Vision Correction
City Place, Ground Floor 5 - 320 Dundas Street
London
519-963-2222
NORTHLAND DENTAL CENTRE
Dentist
1295 Highbury Avenue
Unit C4
London
519-455-2551
SMILE DENTAL CENTRE
Dentistry - Cosmetic
1350 Fanshawe Park Road West
Unit 2
London
519-471-9630
WORTLEY WELLNESS CENTRE
Alternative Medicine
119 Wortley Road
London
519-433-2220
HOME
ALARMTECH SYSTEMS FOR LIFE
Alarm Systems
549 Huron Street
London
519-434-3996
DAVEY TREE
Tree Services
P.O. Box 39016 Adelaide Centre
London
519-660-6271
GREAT LAKES LAWN CARE INC.
Lawn Care Services
P.O. Box 2843 Station B
London
519-457-0800
SPARKLES CLEANING SERVICES LTD.
Maid - House Cleaning Services
297 Wellington Road
London
519-434-9685
About Consumer Choice Award
Consumer Choice Award (CCA) was established in 1987 and is considered to be the most distinguished award for business excellence in Canada. This is the only organization in North America to recognize business excellence by conducting third party market research of both the consumer & business community with statistical accuracy. The research method determines all the service providers, ultimately selects the top ranked companies and establishes the winner within each industry.
Consumer Choice Award conducts its market research strictly with Leger Marketing, the leading Canadian-owned market research firm and member of the Worldwide Independent Network (WIN) of Market Researchers.
Consumer Choice Award lives in Calgary, Edmonton, Halifax, Hamilton, London, Montreal, Ottawa, Quebec City, Saskatoon, St. John's, Toronto, Vancouver and Winnipeg.
For Further Information:
James Daouphars, Communications Manager, Consumer Choice Award
888-892-9273 ext. 211, jdaouphars(at)ccaward(dot)com
http://www.ccaward.com