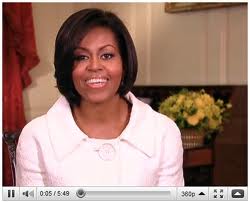 Sacramento, CA (PRWEB) March 22, 2013
The American Community Gardening Association (ACGA) is thrilled at the response to "Garden Aid " which was launched on the first day of spring and is happening around the country in urban and community gardens. "Garden Aid" is meant to be a time of celebration of gardening and solidarity for all those who engage in and support the traditions and values held by the American Community Gardening Association.
Hear First Lady Michelle Obama's message to the ACGA's Annual Conference here: http://youtu.be/rVnt8joZQQQ
"Garden Aid" is a national initiative encouraging local gardeners to take part in a celebration of the love of gardening by symbolically visiting local community gardens to plant seeds, cuttings or plant in a home garden, a backyard or even by starting seeds indoors on a kitchen window sill. Meanwhile, thousands of others, who also love gardening, will be doing the same in cities around the country.
To launch "Garden Aid", ACGA collaborated with critically acclaimed recording artists, Nell Robinson and Jim Nunally who are preparing for the national release of a new album, "House and Garden" on May 21st and an upcoming PBS special. Nell and Jim are passionate about the role of gardens in daily life, health and community. In addition to bringing together community partners like ACGA and Fiskars these artists have also endorsed ACGA's work by featuring its logo on the album packaging. The new album was inspired by both artists' love of natural life, gardens and the central place they play in both of their home-lives, friendships and relationships.
Be sure to visit this link: http://www.nellrobinsonmusic.com/garden/ to watch the new video, get a free song download to celebrate the idea of "Garden Aid" and share with friends and family. "Life in the Garden" was filmed in Sacramento's own Southside Community Garden, also a Fiskars' "Project Orange Thumb" garden. Please visit ACGA's home webpage (http://www.communitygarden.org) and share this initiative with friends.
Over the last several months, in preparation for "Garden Aid", Nell and Jim have introduced ACGA to a number of major corporate community partners, which are now officially participating in "Garden Aid." One of the participants, Fiskars, will be donating gardening kits to ACGA for distribution to 10 member community gardens. Gardener's Supply Company is also contributing gardening tools to the effort. Burpee has agreed to donate seeds to be included in each of the Fiskars gardening tool kits. These kits will be distributed by ACGA to worthy member community gardens throughout the country.
Please participate and send photos of activities to ACGA at info(at)communitygarden(dot)org (http://www.communitygarden.org) go on the Fiskars Facebook page and "like" their contributions and be a part of this great initiative. This first annual "Garden Aid," will be an event that will take place annually, with many exciting developments unfolding in the next few years.
Much as "Farm Aid" has become an annual event, which supports American farmers, ACGA hopes that "Garden Aid" will drive ongoing awareness, community participation and funding to break new ground for community gardens in cities across the U. S. and abroad for years to come.
Media Contacts:
Sara Garrett, American Community Garden Association 1 877 ASK-ACGA (sgarrett(at)communitygarden(dot)org)
Jacquelyn Marushka l General Manager l Shore Fire Media, Nashville for Nell Robinson Music
Office: 718.522.7171 l Cell: 615.417.6500 l jmarushka(at)shorefire(dot)com l http://www.twitter.com/@jackiemarushka