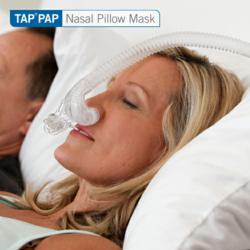 The extra stability provided by TAP PAP virtually eliminates air leaks, and headgear is now optional
Hudson, NH (PRWEB) March 22, 2013
Adherence to CPAP therapy is a longstanding concern of physicians and treatment providers alike. It is estimated that from 46 - 83% of patients discontinue CPAP therapy within the first year, leaving them with untreated Obstructive Sleep Apnea (a major problem that can severely affect overall health and quality of life). Adding to this concern is the estimate that between 5 and 15% of adult Americans have Obstructive Sleep Apnea, leaving more than 85% of the affected population to be yet diagnosed or treated.
The new TAP PAP Nasal Pillow Mask from Airway Management (AMI) answers all of the problems associated with traditional CPAP masks that typically lead to discontinuance of therapy. These problems include instability, air leak, noise, pressure drop and head straps, which often render annoying marks on the face after use. "The extra stability provided by TAP PAP virtually eliminates air leaks, and headgear is now optional which will make most users happy," said Alastair McAuley, AMI's president.
The TAP PAP Nasal Pillows Mask is designed to give you "Freedom To Sleep." Unlike most CPAP masks, the barely there TAP PAP does not require headgear. TAP PAP's unique, adaptive frame is held in place by a soft, form-fitting mouthpiece that automatically aligns and stabilizes the mask regardless of movement or position during sleep. TAP PAP's precision aligned nasal pillows rest gently on the entrance to the nostrils for a comfortable, successful night's sleep.
DirectHomeMedical is confident that the new TAP PAP Nasal Pillow Mask will help patients use their machines on a nightly basis. As part part of their introduction DirectHomeMedical is offering a Free 30-Day Money Back Guarantee with every TAP PAP mask sold.
---
Obstructive Sleep Apnea (OSA) is the most common type of sleep apnea and is caused by obstruction of the upper airway. It is characterized by repetitive pauses in breathing during sleep, despite the effort to breathe, and is usually associated with a reduction in blood oxygen saturation. Common symptoms of sleep apnea include daytime sleepiness, fatigue, and nighttimesnoring. Sleep apnea is most prevalent in adults but may also occur in children. The most common treatment for sleep apnea is Continuous Positive Airway Pressure (CPAP) Therapy in which air pressure, delivered to the nose or mouth via a mask, is used to keep the obstructed airway open during sleep.
DirectHomeMedical.com is dedicated to providing quality, affordable sleep therapy and oxygen products to patients nationwide. With nearly 1,000 products in stock and ready to ship at all times we pride ourselves in quick, courteous service and unparalleled customer support. DirectHomeMedical is an authorized supplier for all major sleep therapy and oxygen product manufacturers including ResMed, Philips Respironics, Fisher & Paykel Healthcare, Puritan Bennett, Hans Rudolph, Covidien, Ventus Medical, Cardinal Medical, DeVilbiss, SeQual, Inogen, and others. DirectHomeMedical.com offers a complete range of CPAP machines, BiPAP machines, CPAP Masks, Portable Oxygen Concentrators, Stationery Oxygen Concentrators, Cannulas, and other oxygen and sleep therapy supplies.
Contact a sleep or oxygen therapy specialist at DirectHomeMedical.com today; call toll free at (888) 505-0212 or visit http://www.directhomemedical.com.