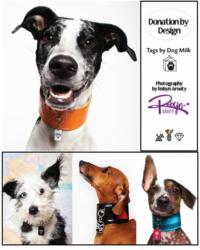 "I'm so happy to get support from designers with such incredible talent and a desire to help animals," says Martin Hubbard, co-owner of Blanket ID
Victoria, BC (PRWEB) March 21, 2013
Jaime Derringer, of the renowned design blog Design Milk, is the latest high profile animal lover to join BlanketID's Donation by Design program, contributing her design for a pet id tag and electing a charity to benefit from sales.
The program expands with designs from Capree Kimball (managing editor of Dog Milk) and the talented photographer Robyn Arouty. Donation by Design donates a full $5.00 from each tag sale and an ongoing portion of any membership fees to support a charity of the designer's choice.
Designs by Pinterest Star Christine Martinez, Fiona Richards of Cartolina, and animation artist and designer Lili Chin and are already available for sale on the Blanket ID website. "I'm so happy to get support from designers with such incredible talent and a desire to help animals," says Martin Hubbard, co-owner of Blanket ID. "What we really needed to find was a stream of limitless funding for the organizations that needed it – Donation by Design fits the bill perfectly"
This new expansion of the Donation by Design program will benefit organizations such as the Heavensent Bulldog Rescue in New Jersey and Friends of Animals Utah. Blanket ID also manages The Blanket Fund for Animals, which distributes funds to animal welfare organizations across Canada and the United States.
These new Donation by Design pet id tags join an already extensive collection of designs available on the BlanketID website. The site provides for every member to choose an organization to support.
About Blanket ID: Blanket ID is an ID tag that links to an online record of your contact details and pet information. In the event that a pet is lost or stolen, pet owners can send a "missing pet" email alert to local animal resources and Blanket ID members. Finders have 24/7 access to information via each tag's unique blanket ID number.
For more information, visit http://www.blanketid.com or contact Martin Hubbard: martin@blanketID.com