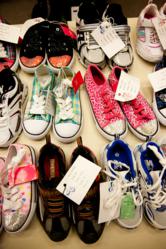 Las Vegas, Nevada (PRWEB) March 21, 2013
Holland & Hart LLP is pleased to announce that the Las Vegas committee of the Holland & Hart Foundation is teaming with Shoes That Fit, a nonprofit children's charity, to provide 360 pairs of shoes to children at R. Guild Gray Elementary School in Las Vegas, which has a student population of more than 90 percent at or below the poverty line.
The mission of Shoes That Fit is to provide new shoes to children in need so they can attend school in comfort and with dignity, better prepared to learn and play. Accepting no government funding whatsoever, and with 100% of community donations going directly to school children through an impressive network of volunteer-run local grassroots chapters, Shoes That Fit is uniquely efficient and effective in its life-changing operations.
This is the sixth year that Holland & Hart and the Holland & Hart Foundation have supported the Shoes that Fit program. Since 2007, the office has donated more than 1,000 pairs of shoes to children at six Las Vegas-area elementary schools.
About Holland & Hart
Holland & Hart LLP delivers integrated legal solutions to regional, national and international clients of all sizes.
Since its inception in 1947, Holland & Hart's more than 450 lawyers have consistently been recognized by leading national and international peer and industry review organizations for innovation and dedication to the practice of law.
For more information, visit http://www.hollandhart.com.