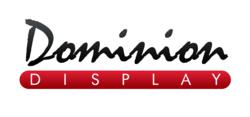 (PRWEB UK) 23 March 2013
The team at renowned banner manufacturers Dominion Display is preparing for a particularly busy period ahead, with demand for exhibition displays and banners expected to rise with the increasing number of shows that will be taking place over the fast-approaching summer months.
With large-scale events like The Ideal Home Show already in full swing and upcoming attractions such as The Royal Academy of Arts Summer Exhibition, New Designers, The Summer Science Exhibition and many more set to bring thousands of visitors flocking to conference centres across the land, exhibitors are looking towards banner manufacturers like Dominion Display for a selection of different ways to communicate with their audiences.
With over 30 years in the industry, Dominion Display provides a range of products aimed squarely at customers who wish to make an impact at exhibitions and promotional events.
Exhibition displays remain a firm favourite with Dominion Display's customers
Dominion Display provides pop-up units which are designed to create branded wall-space that can be easily set up at shows, disassembled and then transported: properties which make them a popular choice for exhibitors who expect to be on the road between shows.
Along with large-scale pop-up units, Dominion Display finds that its customers are now looking for eye-catching new ways to draw attention to their exhibits, which has led to increased demand for the company's backlit graphical displays: these re-usable units typically take on the form of column or 'totem'-shaped structures which graphics panels can be applied to.
A number of Dominion Display's customers have also expressed their interest in the company's pull up banners, which are designed to roll up into compact, lightweight cassettes.
Banners are bigger than ever in 2013
Despite the rise in demand for exhibition displays that has been observed in the run up to the summer exhibition season, Dominion Display has found that its customers still come from far and wide to order more traditional products.