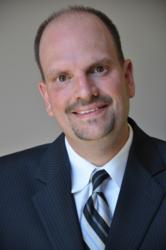 Sioux Falls, South Dakota (PRWEB) March 21, 2013
Steve Larsen has spent the last four-and-a-half years building his South Dakota Growth Coach business from the ground up. He's been working with local business owners, managers, leaders and community members to drive success; helping clients find a better balance between work and life; and making the Sioux Falls area an even better place – and it hasn't gone unnoticed.
Larsen, a business and sales coach, was recently named the Sioux Falls Business Journal's 2012 Readers Choice Award Winner for Best Business Consultant. Jodi Schwan, editor of the newspaper, said the award is a statement from the business community.
"Our Readers Choice Award winners represent those businesses and professionals our audience says are best in class," she said. "More than 500 readers participated in the 2012 awards, and they named Steve Larsen of The Growth Coach as the best business consultant in our area. Congratulations from the Sioux Falls Business Journal!"
The Growth Coach is a Cincinnati-based franchise and is the only pure business and sales coaching system that aims to help clients drive success in business while balancing the lives of owners, managers and sales teams. Larsen bought South Dakota's first Growth Coach in 2008. Prior to that, he specialized in marketing and advertising and also was a leader for a regional Professional Employer Organization.
"I enjoy reading the Business Journal and I write an occasional column, but I hadn't seen that they were doing these awards, so I was pleasantly surprised when I found out I'd won. I'm very honored and humbled that the readers selected me. It's great to know that the strategy and support The Growth Coach brings to business coaches like me truly does have a positive impact in communities throughout North America," he said. "All my Growth Coach colleagues are in this because it's about helping others to find true clarity about what to do moving forward in business and in life."
It's his background and approach to coaching – as well as The Growth Coach's proven coaching and marketing systems – that Larsen says makes the critical difference with his business and those of his clients.
"When I reach out to someone, I don't try to sell The Growth Coach. I try to explain the value of making two degrees of change to make a big difference in your business and to be more successful. It's all about slowing down, reflecting and committing to making those small and consistent changes," he said.
The Growth Coach's founder and CEO Dan Murphy was excited to hear about Larsen's recognition as top adviser.
"I got into business coaching in 1992 because I truly wanted to help the businesses and business owners in my community. We started franchising so we could broaden the impact of our proven systems nationally and internationally – the more coaches out there, the more of a difference we can make. I'm excited that Steve Larsen has been recognized for doing just that. He's an important part of our team," he said.
For more about The Growth Coach, visit http://www.TheGrowthCoach.com. To contact Steve Larsen, please email s.larsen(at)TheGrowthCoach(dot)com or call him at 605-321-7881.
About The Growth Coach
Founded in 2002 in Cincinnati, Ohio, The Growth Coach is the only pure business and sales coaching franchise system with the single purpose of helping drive success and balance the lives of business owners and their management and sales teams. Their goal is to help clients gain greater focus so they can work less, earn more and enjoy more fulfilling lives. Clients include business owners, franchise owners, self-employed professionals, executives, sales teams, and management teams across a wide spectrum of businesses and industries. Growth Coach specializes in group workshop coaching and provides a money-back guarantee on their services. They also provide individual coaching, in-person and via phone/web.
The Growth Coach defines business and sales coaching as the art and science of guiding clients to reach their objectives and overcome obstacles and limitations that keep them from reaching optimal success in business, and in life. The Growth Coach is active in over 150 markets across North America and has expanded into international markets. In addition to unit franchise operators, they are also seeking Area Developers for parts of the U.S. and Master Franchises for international markets.
For more information about The Growth Coach or the process of opening your own #1 business coaching franchise, visit http://www.TheGrowthCoach.com.