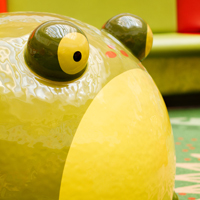 The way that people respond to these soft playgrounds is invaluable to us.
Chicago, IL (PRWEB) March 27, 2013
Westfield's Fox Valley Mall recently opened a new indoor playground with a "Go Wild" theme as part of its WFamily initiative. "The way that people respond to these soft playgrounds is invaluable to us," says Lisa DeVries, Marketing Director. PLAYTIME designed, manufactured and installed the soft play area.
"Play areas are part of Westfield's WFamily initiative," explains DeVries. "So many of our customers bring their kids with them to shop and therefore, they need a place for their kids to play."
DeVries has been with Westfield for five years, first at Southlake Mall and now at Fox Valley Mall. At both places, she championed play areas for the communities that the malls serve.
"One of the highlights of my career was to develop Southlake Mall's play area," says DeVries, who worked with PLAYTIME on that play area, as well. When DeVries moved to Fox Valley Mall, she was excited that the center offered the community a similar play experience.
The Fox Valley Mall indoor playground features a "Go Wild" theme, a vibrant color pallet, and huggable, adorable soft play elements such as a wide-eyed frog and an inchworm.
For DeVries, half the fun of developing a play area is in coming up with the creative concept itself. For example, at Southlake, DeVries says that she wanted to make sure that the play area honored the natural environment of the region.
"We needed a lake, to emulate our region's famous lake," she says. "Our marketing and center team took a road trip, drove around the lake and took pictures. Then we worked with PLAYTIME to create play elements that had never been created before. When that play space first opened, we were all so excited, I couldn't help sliding down the slide myself. It was such a great experience!"
Westfield's shopping centers often partner with PLAYTIME on their play areas. PLAYTIME is the global provider of unique, interactive, soft play areas and playground equipment for indoor, outdoor and water play.
"PLAYTIME'S products are gorgeous and durable and they make our shoppers happy," says DeVries. "PLAYTIME is an important partner of ours. They are very customer-focused and they always want to make sure that these areas represent them and us very well."
DeVries says she believes that the soft play areas give Westfield an edge over regional competition.
"All of our competition is open air centers," she says. "We have a roof and we have these wonderful WFamily experiences. Right now in Chicago it's cold but at Fox Valley, you can come into the warmth, shop and let your kids run around in a wonderful play space. It's a good place to be."
PLAYTIME's themed soft play areas drive traffic and enhance customers' brands. Thousands of families experience PLAYTIME every day at shopping centers, restaurants, airports, stadiums, childcare, healthcare centers, fitness centers, churches, resorts, recreation centers, water parks and museums – any place that kids play.