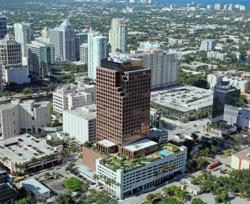 Sustainable office buildings that offer cost-saving amenities and the prestige of LEED Gold certification are popular among growing businesses.
Fort Lauderdale, Fla. (PRWEB) March 22, 2013
Transwestern's Fort Lauderdale office today announced that 110 Tower, a LEED® Gold certified Class A office building located in Fort Lauderdale's Central Business District, is welcoming three new tenants, collectively leasing 12,200 square feet.
"These leases signify growth and an absorption trend in the downtown Fort Lauderdale market, primarily by new-to-market tenants," said Laurel Oswald, senior vice president of Transwestern, who represented the ownership on all three transactions. "Sustainable office buildings that offer cost-saving amenities and the prestige of LEED Gold certification are popular among growing businesses. As a result of 110 Tower's on-site amenities and convenient location adjacent to the courthouse, tenants can enjoy not only economic efficiencies but time efficiencies as well, resulting in higher productivity."
Cole, Scott & Kissane, P.A., has entered into a long-term lease and will occupy in excess of 6,500 square feet on the building's 18th floor. The law firm, headquartered in Miami, also maintains a presence in West Palm Beach, Orlando, Jacksonville, Pensacola, Tampa, Bonita Springs and Key West. The firm's new office at 110 Tower represents its foray into downtown Fort Lauderdale. Jon Bourbeau and Patrick Duffy of Newmark Grubb Knight Frank represented the tenant.
Freedland Harwin, PL has leased approximately 3,000 square feet on the building's 23rd floor. With offices in Fort Lauderdale and Weston, Freedland Harwin is a medical malpractice and personal injury law firm representing consumers nationwide. Scott Sheron of Jones Lang LaSalle represented the tenant.
Both law firms cite the advantage of the building's downtown location and convenient access to the area's county and federal courthouses as determining factors in their moves.
EVault, a Seagate company headquartered in San Francisco, has leased approximately 3,000 square feet of office space on the 21st floor. As a technology firm, EVault provided a strategic diversification in tenant mix, and opted for a modern design and open floor plan, thereby maximizing the views of downtown Fort Lauderdale and the Intracoastal Waterway. Cresa Partners represented the tenant.
110 Tower has built a reputation for pioneering efforts in energy efficiency within Fort Lauderdale's downtown district. The building was the first option for tenants seeking a LEED Gold certified building within a multi-tenant high-rise office tower in downtown Fort Lauderdale. The building subsequently received the U.S. Green Building Council of South Florida's coveted GalaVerde Award as "Florida's Best in LEED for Existing Buildings" as well as taking home BOMA Fort Lauderdale/Palm Beaches' TOBY Award for "Renovated Building of the Year."
110 Tower is completing a comprehensive $15 million interior and exterior renovation program which includes upgrades to the lobby, new ground-floor retail, upgraded upper-floor common areas and other interior spaces, replacement and improvement of all building primary mechanical systems and a unique exterior lighting system.
Located in the heart of downtown Fort Lauderdale directly across from the Broward County Courthouse, this iconic tower constructed in 1988 provides a combination of upscale office space, easy access and stunning views. The building's tenants have access to many new and existing amenities, which currently include 110 Fitness, Sabadell United Bank, a wrap-around outdoor terrace and conference centers.
ABOUT TRANSWESTERN
Transwestern is a privately held real estate firm specializing in agency leasing, property and facilities management, tenant advisory, capital markets, development, research and sustainability. The fully integrated enterprise leverages competencies in office, industrial, retail, multifamily and healthcare properties to add value for investors, owners and occupiers of real estate. Transwestern facilitates better decision-making for clients by combining penetrating local market intelligence and macro-market research through its affiliate, Delta Associates. Transwestern has 33 U.S. offices and assists clients through more than 180 offices in 36 countries as part of a strategic alliance with Paris-based BNP Paribas Real Estate. For more information, please visit http://www.transwestern.net and follow us on Twitter: @Transwestern.
ABOUT GENCAP PARTNERS
GenCap Partners, Inc. is a real estate investment, advisory firm based in Dallas, Texas. The firm provides specialized real estate advisory, asset management and development services to domestic and international institutions in core markets nationwide. GenCap focuses on creating value and superior returns for its clients through investments in office, multifamily and industrial products. GenCap Partners brings substantial experience in sourcing, underwriting, structuring and managing real estate investment and development transactions. GenCap's strategic approach to real estate balances opportunist#ic, core and value added approaches to the market to meet the unique risk profiles of its diverse clientele. GenCap currently manages over $400 million on behalf of its European private and institutional clientele.
# # #