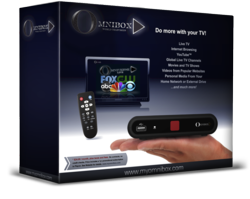 The OmniBox is truly the only All-In-One Media solution in home, online, and mobile with over 800 channels
Tampa, FL (PRWEB) March 22, 2013
By purchasing OmniBox TV and subscribing month-2-month, consumers gain free access online and mobile. Jason M. DeMeo, CEO of Omniverse One World Television noted, "There's nothing like this in the marketplace. We have thousands of licenses and the OmniBox is the only streaming alternative for your television, computer and mobile devices. With Omnibox TV, consumers gain access to over 800 channels including live, video on demand and podcasts. In fact, we're the largest streaming content platform on earth and have more to offer viewers than Apple TV, Roku and all the others combined. OmniBox TV has unlimited channel capacity, and offers our content providers very low broadcasting costs allowing us to transfer those savings to our subscribers. The OmniBox TV Platform is built to empower viewers to watch What they want to - On the device they want to - Whenever they want to which is clearly the global demand of viewers today. In addition, OmniBox TV has a built-in web browser, social media apps, and three USB ports to accommodate a wireless keyboard and mouse or simply plug in your own thumb drive to view pictures, videos, and even documents. Omniverse One World Television is truly your TV empowered with endless possibilities."
With OmniBox TV, there are no payments for 90-days. Hardware is sold separately online at OmniboxTV.com and at Radio Shack in-store and online at radioshack.com. At only $24.95 per month with no contracts and no credit checks, The OmniBox TV proprietary Streaming Media Player and its very own Content Delivery Network is the first OTT content aggregator offering an In Home Streaming Media solution for consumer TV, Online access at OmniverseTV.com, and Omniverse TV on all Android Devices through Amazon, Samsung App markets, Windows Store, and IOS will also be available in the coming weeks.
With over 200 live domestic channels, 250 International Channels from over 20 regions, and the enormous Omniverse Video On Demand category tips the scale with over 20 genres, 383 channels and over 25,000 video on demand and podcasts updated daily.
OmniverseTV.com is an alternative to those consumers looking to view content on their computers without having to purchase any additional hardware. Access to OmniverseTV.com is only $19.95 per month with no contracts or credit checks and includes free mobile viewing with Omniverse TV apps at no charge.
The OmniBox empowers Producers, Content Rights Holders, Syndicators, and Broadcasters large and small to effectively monetize their content through a Multi-Media Platform which covers all 211 domestic and worldwide markets.
Omniverse One World Television - Your TV Empowered With Endless Possibilities...