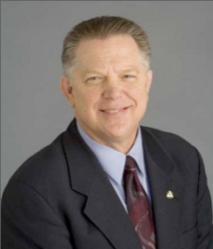 Chevy Chase, Maryland (PRWEB) March 22, 2013
The Directors of The American Board of Addiction Medicine (ABAM) Foundation have selected G. Gary Deverman, CFRE as The ABAM Foundation Chief Development Officer. Mr. Deverman's mission will include building partnerships with local, regional, and national stakeholders to promote the continued expansion of the physician workforce trained and certified in addiction medicine.
A particular focus of Mr. Deverman's will be securing the resources to develop a National Center for Physician Training in Addiction Medicine, with the objective of permanent funding by 2020 for 50 addiction medicine residency training programs. These programs will be located in medical schools and teaching hospitals, where eventual accreditation by the Accreditation Council for Graduate Medical Education can be achieved.
"Mr. Deverman brings to The ABAM Foundation exceptional experience and skills with which to secure critical resources essential for the expansion of addiction medicine training and certification to address the availability of addiction experts within America's health care system," said Jeffrey H. Samet, M.D., M.A., M.P.H., President, ABAM and ABAM Foundation Board of Directors.
There are currently ten addiction medicine residency training programs accredited by The ABAM Foundation. These are located at Saint Luke's and Roosevelt Hospitals, Addiction Institute of New York; Boston University Medical Center; University of Cincinnati College of Medicine; Geisinger Health System at Marworth, Waverly, PA; University of Minnesota Medical School; New York University School of Medicine; The University at Buffalo (SUNY) School of Medicine; University of Florida; University of Maryland School of Medicine, and the University of Wisconsin. Nine more residency programs are scheduled to be accredited by The ABAM Foundation this year.
Mr. Deverman brings to this position an extensive background as an executive leader in the health care and not-for-profit sectors, which includes serving as Chief Operating Officer of the Children's National Medical Center Foundation. He served as Vice President for Resource Development of the Points of Light Foundation, where he oversaw the George H. W. Bush Award of Excellence, created the "Extra Mile" National Monument to Volunteering and helped 370 local volunteer centers secure $80 million per year. Mr. Deverman also served as Executive Vice President and CEO of Shaping America's Health, establishing a National Roundtable for Obesity Prevention that brought community leaders together with representatives from federal agencies, the medical profession, and public health.
ABAM is an independent specialty board established in 2007. The ABAM Foundation is a 501 (c) (3) not-for-profit also established in 2007. The ABAM and ABAM Foundation mission and vision are to train and certify the physicians of the future in addiction medicine, so that patients and their families will have access to physicians knowledgeable about prevention, screening, intervention and treatment of unhealthy substance use and addiction to alcohol, tobacco and other addicting drugs; and to make this care available at all phases of a person's life-cycle, and at all points of entry to the health care system: in physicians' offices, community clinics, emergency rooms, trauma centers, hospitals and other health care settings.
ABAM and The ABAM Foundation are governed by 15 distinguished physicians from several medical specialties. Each Director is certified by a member board of the American Board of Medical Specialties (ABMS).
For more information on ABAM and The ABAM Foundation, please visit http://www.abam.net, or call (301) 656-3378.