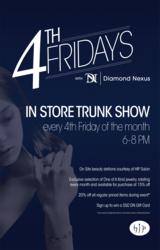 We want to make Fourth Fridays the Ultimate Ladies Night.
(PRWEB) March 21, 2013
Beginning this Friday, March 22nd from 6pm-8pm CST, Diamond Nexus will be hosting a new concept for the online jewelers. Showcasing sales on one of a kind Trunk Show jewelry pieces and offering discounts on instock items, customers will get the opportunity to enjoy an evening at the retail store like no other.
"I didn't just want this to be a shopping experience, I wanted it to be a one of a kind ladies night. 4th Fridays are a truly unique experience for our customers to come in to the store, get pampered by our friends at HIP Salon and find amazing deals on one of a kind jewelry," commented Christina Waller, Event & Retail Marketing Coordinator.
Along with the jewelry being presented, Diamond Nexus is happy to be working with HIP Salon who will be offering courtesy beauty services throughout the evening.
Diamond Nexus will also be holding a $50 gift certificate giveaway at the event for one lucky winner.
"We want to make Fourth Fridays the Ultimate Ladies Night and with 15% off all one of a kind pieces and 20% off all Instock non-sale items, it is a great opportunity to come to Diamond Nexus at the Woodfield Mall," said Waller.
Diamond Nexus was founded in 2004 with the purpose of bringing to the public the powerful benefits of the lab-created diamond simulant revolution. They have over 250,000 customers worldwide that have awarded them an "A+" rating with the BBB, and are the ninth largest online jewelry retailer in America according to the 2011 IR500 list. For three years in a row brides from The Knot have selected them as their Best of Jeweler. Diamond Nexus currently has two retail locations: their flagship store at Woodfield Mall in suburban Chicago, Illinois, and a second store at Mayfair Mall in Milwaukee, Wisconsin. In 2009 the company was named the official jeweler and crown maker of the Miss Universe Organization as part of NBC/Universal's "Green is Universal" environmental initiative.