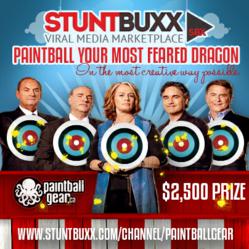 Is anyone taking odds, or does Mr. Wonderful, have it in the bag?
Vancouver, B.C. Canada (PRWEB) March 22, 2013
Looks like tech start up Stunt Buxx Viral Media Marketplace is pulling out all the stops to prove their open innovation platform inspires viral media movements and creates enthusiastic and loyal fans.
How will they do that? With paintball guns and Dragons? Say, what?
When Shane Holmes, owner of Paintballgear.ca – the largest supplier of paint ball gear in Canada was looking for a platform to run their viral media contests on, he landed on the Stunt Buxx movement.
When asked why, he said; 'Being a paintballer, it's about lifestyle, and it's about challenge, and so is Stunt Buxx. I liked that their video contests spoke to average Joe, not just professional designers or film makers, like many other video contest sites. It's an everyday persons' community. Anyone with a little creativity and a mobile phone can play and win.'
So, what's the promotion?
Stunt Buxx is on their way to CBC's Dragon's Den in early April, to pitch the feared Canadian Dragons.
'We felt this challenge has a water cooler quality to it.' Reported Rita Bennet, Co-Founder of Stunt Buxx.
The challenge is:
PAINTBALL YOUR MOST FEARED DRAGON, in the most creative way possible – sponsored by; PaintBallGear.ca who is putting up $2,500 in cash to add some incentive to the movement.
Reviewing the rules of the challenge, it disclaims that 'NO ACTUAL DRAGON'S MUST BE INVOLVED IN THIS CHALLENGE.'
They are asking site members to set up a target range of Posters, cut outs, and mannequins of the Dragons, and then fire away with paintballs in the most creative way possible, targeting their most feared Dragon.
When we asked Ryan K. Bennett, another Co-Founder of Stunt Buxx how they can stage a movement without big box budgets, he replied.
'I get asked that a lot. When people talk about going viral, it's much like capturing lightning in a bottle. But the definition of viral has changed. The definition of viral 2.0 is that any piece of digital media online today, has the potential of going viral. We just add some spice, to inspire the movement.'
When pushed on what the spice actually was, he replied.
'We converge gamification, and incentives, with one secret ingredient - giving your audience a voice to express themselves.'
Ryan had one last challenge to offer: 'We are calling on all Universities, and all faculties to get involved with this movement. Which University will be the most creative with paint ball guns and dragons? My bet's on Engineering, but then again, it's anyone's game.'
It will be interesting to track the results of this campaign, since these result will most likely directly reflect Stunt Buxx's ability to land a deal in the Dragon's Den.
As for the Paint Ball Your Most Feared Dragon Challenge, is any one taking odds, or does Mr. Wonderful have it in the bag?
Terms: The website lists the incentive for this contest at: $2,500 cash prize for the most creative video or photo submission. The challenge runs from Fri. March 22st through to Monday. April 8th @ 12pm (PST) Winners will be announced on the Stunt Buxx Facebook Page and PaintBallGear.ca Facebook Page, at 5pm (PST) PaintBallGear.ca will judge and select their favorite entry. World-Wide submissions accepted.