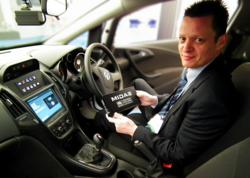 (PRWEB UK) 25 March 2013
The State-of-the-art on-board technology from a consortium of 12 companies includes solutions from Daetech Systems (UK) Ltd, Innaxys, Video Latitude, Imagebase, Tetratab, Airmax Group, Trans-tag, Kelvin Connect, Civica and Facewatch all brought together by Vauxhall Special Vehicles, integrated and made fully interoperable with the onboard systems and existing Police and Emergency Services infrastructure, whilst ensuring that the chosen solutions were of a quality and maturity that would enable a police force to buy it and implement it.
Daetech re-engineered their flagship solution, the Mobile Image and Data Acquisition System (MIDAS) into a smaller, robust first responder version, completely re-designing the hardware and software, the MIDASone has become a fully integrated solution and integral part of the Future police car. The MIDASone allows police officers responding to an incident to recover vital forensic evidence from the crime scene including CCTV video and Images and multimedia from mobile devices such as camcorders and smartphones controlled by the Daetech Multimedia recovery suite, captured and recovered files are immediately forensically verified to ensure the integrity of the evidence, along with additional metadata which can be added such as attending officer, location and device type. The MIDASone connects to and is interoperable with USB 2 laptops such as the Rugged C-series laptop from Tetratab which docks seamlessly into the police vehicle.
"This British-built and –converted Astra Sports Tourer will help make police officers more efficient. It becomes their office and allows them to spend more time on the road fighting crime," said Dick Ellam, Vauxhall's Special Vehicles Manager.