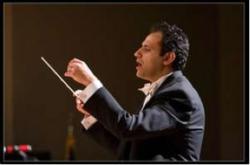 Fayetteville, NC (PRWEB) March 21, 2013
The "Community Observance of Holocaust Remembrance Day" on April 7 at Beth Israel Synagogue will feature a Fayetteville Symphony quartet performing Quartet for the End of Time (Quatuor pour la fin du temps). This Olivier Messiaen piece was composed while he was held at a Nazi prison camp. The performance was premiered in StalagVII-A in Gorlitz, Germany (currently Zgorzelec, Poland) outdoors, in the rain on Jan 15, 1941 for 400 prisoners and guards. The quartet includes violin, cello, clarinet and piano.
The performance is accompanied by select readings from the stage adaption of the Diary of Anne Frank, courtesy of Cape Fear Regional Theater.
Doors open at 5 pm for a reception, the performance begins at 6 pm. Beth Israel Synagogue is located at 2224 Morganton Road in Fayetteville. For more information, contact the Fayetteville Symphony at (910) 433-4690.
This performance is part of a community series of special events anchored by two national exhibits from the Anne Frank Center, USA. The series, which educates about the evils of intolerance and honors those that died in the Holocaust and those that fought in WWII, runs through April 21. One exhibit, at the Fayetteville Area Transportation & Local History Museum, highlights the history of Fayetteville's Jewish Community. More information: Anne Frank Event Series
About the Fayetteville Symphony
Founded in 1956, the Fayetteville Symphony Orchestra holds the distinction of being the oldest continuously-funded orchestra in North Carolina. Fifty-six years later, our mission remains: To Educate. To Entertain. To Inspire. Praised for its artistic excellence, the Symphony leads in the cultural and educational landscape for Fayetteville and our southeastern North Carolina region. http://www.FayettevilleSymphony.org.
About the Fayetteville Area Convention & Visitors Bureau:
The Fayetteville Area Convention & Visitors Bureau is a private, not-for-profit organization responsible for positioning Fayetteville/Cumberland County as a destination for conventions, sporting events and individual travel. For additional information, visit http://www.visitfayettevillenc.com or call 1-800-255-8217. Cumberland County is America's first military sanctuary. Through the Army's Army and other volunteer groups, our citizens and businesses are dedicated to "watching over those who watch over us ©."