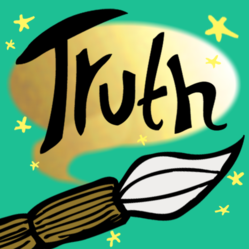 That's why I created this app, to give kids an innovative way to read for fun.
Fort Lauderdale, Florida (PRWEB) March 27, 2013
Brush of Truth, an award-winning book app for kids 8-12, will be on sale for 99 cents on the iPad, iPhone and iPod touch March 29 in honor of National Reading Month. Brush of Truth, recognized for its appeal to reluctant readers, was created by Story Bayou, http://www.storybayou.com, a mom's vision to get kids to read.
The interactive storybook app, geared to third- through sixth-graders, is written in second person and lets the user choose how the action unfolds at critical points in the plot. Brush of Truth has 125 pages of story and colorful illustrations, with 65 decision points and 20 possible endings. The app is regularly priced at $1.99 and is also available on Kindle Fire and Android.
Brush of Truth was named 2012 Media of the Year in Interactive Book Apps by Creative Child Magazine. The app was named a "Recommended iPad Book App for Older and Reluctant Readers Ages 8-12" by Digital Storytime, and one of "6 Interactive Book Apps to Get Kids Excited About Reading" by Tecca. Brush of Truth was rated five stars by Technology in Education, a children's tech review site.
"I'm a mom of two tweens, and I'll do anything to get my kids to read," said Julie Landry Laviolette, author of Brush of Truth and a mom of two. "That's why I created this app, to give kids an innovative way to read for fun."
Brush of Truth tells the story of two tweens who find an enchanted paintbrush. They begin to discover its powers as they go in adventures under the ocean, inside a sand castle, and while rescuing a sea creature. Teachers can access free Common Core-aligned lesson plans to go with the app on the Story Bayou website.
Julie Landry Laviolette, founder of Story Bayou, is a parenting journalist and New Orleans native. A former columnist and editor for The Times-Picayune, she currently lives in Fort Lauderdale, Florida, where she contributes to The Miami Herald, South Florida Sun-Sentinel, South Florida Parenting and more than 30 regional parenting publications in the U.S. and Canada.
Story Bayou, founded in 2011, partnered with Linxter, Inc., a Cooper City software engineering company, to create the mobile app. Brush of Truth was released in February 2012.