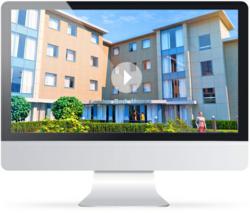 "We at CRM feel that the development fully reflects the modern aspirations of students and will serve as a bench mark for standards in the accommodation sector. Stewart Moore, Commercial & Marketing Director, CRM Student Accommodation Management
(PRWEB) March 23, 2013
Investment in the UK student accommodation sector reached a record high last year with £2.7 billion invested in the sector according to CBRE. The sector has subsequently emerged as one of the UK's leading asset classes due to its versatility and ability to outperform all other commercial property assets for the past 5 years.
London-based property agent, Experience International has just launched a brand-new UK student property investment which will provide investors with 10% NET rental returns per annum assured for a 5 year period which will be paid monthly. For investor security, the investment will be managed by CRM – the UK's leading independent student accommodation Management Company.
"London Park House aims to set the standard in student accommodation where the facilities offered are designed to meet the demands of the modern student. It has been built to the exacting requirements of CRM whose knowledge in the sector is second to none. With the CRM management team fully behind the project I am sure they will achieve high occupancy levels which in turn will prove the investment a success," Jerald Solis, Business Development Manager, Experience International commented.
The student property investment
Located in Luton town centre, London Park House is situated 0.2 miles from the University of Bedfordshire and will contain luxury en-suite rooms and self-contained studios. With around 24,000 students at the University and only 2,275 available purpose-built beds, there is a distinct undersupply of rooms in the town.
Research conducted by CRM shows that 60% to 80% of all 1st year students living in Halls would choose to remain in Halls if they could.
Exclusive to Experience International, en-suite rooms are available from £49,950 with a favourable payment plan spread across the duration of the construction phase. With 5% interest paid on deposited funds, this investment is income generating from day one.
UK's No.1 Student Property Management Company
CRM will be the sole Management Company marketing London Park House. Luton has a distinct shortage of good-quality, purpose-built student rooms and CRM therefore expects the rental demand for student rooms to remain strong.
With over 11,000 beds across the UK, CRM is the largest independent student accommodation company in the country. CRM Students is also accredited by ANUK, a body recognised by all UK Universities, the Student Union and the UK Government for defining a code of standards for student accommodation.
"We at CRM feel that the development fully reflects the modern aspirations of students and will serve as a bench mark for standards in the accommodation sector. It will be fully equipped to meet the requirements of the modern student today. It will offer residents an exceptional standard of living which is just a short walk from the main university campus," Stewart Moore, Commercial & Marketing Director, CRM Student Accommodation Management commented.
"It has been extremely refreshing to work alongside Experience International as they have fully accepted our hands-on approach and allowed us to shape the development's structure based on our knowledge of the market. The accommodation now fully reflects our requirements which will help to ensure that these rooms will be easily rented out to students in the area," Moore added.
How does the investment work?
Investors purchase one or more en-suite rooms and/or self-contained studios which are leased back to a well-established Management Company (CRM) on a rolling agreement so that the building, in its entirety, can be let as student accommodation.
The student buy-to-let market is now well established and has the ability to deliver a robust long-term, low-risk income stream. High quality developments in prime locations, preferably close to a university or city/town centre will help ensure the longevity of investor returns.
Due to the popularity of the asset class and the close proximity of the development to the University, the en-suite and self-contained studios within London Park House are expected to attract international investment activity.
To ensure you don't miss out on your opportunity to invest in the UK's leading asset class and to receive 10% NET rental returns, contact Experience International today on 0207 321 5858 or email enquiries(at)experience-international(dot)co.uk