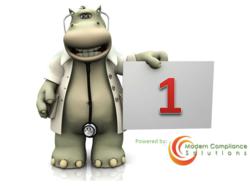 HIPAA One's clean interface and collaboration features made it clear on what had to be done, and is light years beyond spreadsheets we had previously used.
Park City, UT (PRWEB) March 26, 2013
With HIPAA/HITECH enforcement increasing by the Office for Civil Rights (OCR), many clinics feel they have no choice but to address their HIPAA security requirements. For busy clinics and hospitals, understanding the complex security requirements in addition to EMR migration and attesting for Meaningful Use can be overwhelming.
When Snow Creek Medical Center (SCMC) needed help with their HIPAA Security Risk Analysis, they had previously commissioned their consultants to leverage the HHS HIPAA security spreadsheets.
This year they wanted to evaluate another solution that is more simple, clear and effective. HIPAA One was provided to help ensure a complete HIPAA Security Risk Analysis process. "We needed a HIPAA Security solution that was simple and efficient. HIPAA One's clean interface and collaboration features made it clear on what had to be done, and is light years beyond spreadsheets we had previously used," said SCMC's Clinic Manager, Shanae Thornton. "We were able to extend HIPAA One access to our IT staff and EMR Administrator so they could answer their security questions anywhere, anytime. We are happy with HIPAA One and the results."
Steven Marco, the CISA Auditor behind HIPAA One, has over 15 years of certified audit experience, eight years with HIPAA Security and HIT. Says Steven: "Through repeated onsite HIPAA risk management consulting, we developed HIPAA One to ensure consistent and complete quality that is compliant with ever-evolving regulations and technologies. We added a Could-based, self-assessment option based on paper-based workflow to help rapidly adopt better security across the health care community".
About Snow Creek Medical Center
Helping local residents of Park City and visitors in the area, we at Snow Creek Medical Center are committed to keeping your family and our community in the very best of health.
With over 120 years of collective emergency and urgent care experience, our team of Board Certified Emergency Physicians, Nurses, and technicians are trained to treat nearly every medical condition – from a sprained ankle, strep throat, or the flu to more extreme cardiac emergencies, lacerations, and orthopedic trauma.
And with our local ties in the community, we are able to work with local or out of state Primary Care Providers, or coordinate a new Primary Care and/or Specialty referral, whatever your needs may be. It is our privilege to provide Park City's finest medical care.
About Modern Compliance Solutions
At Modern Compliance Solutions, our mission is to treat the security of our clients' patient data as though it were our own. We provide premier onsite consulting services for HIPAA/HITECH compliance, penetration testing and security strategies for Clinics, Hospitals and commercial entities. Designed from the ground-up for health care, HIPAA One is our evolved version of the previous HHS Spreadsheets and the HSR Toolkit.
Using a clean, paper-based medical workflow, HIPAA One's process is based on compliance with the 78 HIPAA Security laws included in the OCR's Audit Protocol. HIPAA One's automated risk-analysis and reporting components are designed to follow NIST methodologies assuring its clients meet Meaningful Use security requirements.
Performing a periodic HIPAA gap analysis and risk assessment using HIPAA One will help proactively prepare for an OCR investigation while ensuring risks are identified and reasonably addressed, guaranteed. Visit us to learn more about HIPAA one and get started today at http://www.moderncompliancesolutions.com/hipaaOne.php.