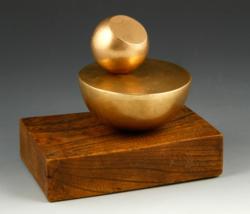 Beverly, MA (PRWEB) March 22, 2013
Kaminski Auctions' Spring Modern Auction will feature numerous important modernist artists, including Kipniss, Hepworth, Grau Sala, and Cocteau. Other pieces of interest include Nakagawa pottery, Venini cystal and art glass, as well as a number of fine pieces of modern furniture.
One of the most highly anticipated pieces in the auction is Lot 5369, a sculpture by the British artist Barbara Hepworth. The sculpture, entitled "Sphere and Hemisphere," is of polished bronze and features a sphere resting on the flat plane of a larger hemisphere. Hepworth made a number of sculptures investigating the spherical shape. The piece to be offered at Kaminski appears alongside similar works in Barbara Hepworth's catalogue raissoné compiled in 1971 by Alan Bowness. The sculpture is estimated to sell for between $10,000 and $15,000.
The Spring Modern Auction will also include two pieces by the artist Robert Kipniss. Famous for his prints, the artist also produced paintings of simple subject matter in which he instilled the deeper sense atmosphere and experience he sought to capture in his work. The two pieces at Kaminski reflect this harmony of simplicity and depth.
Lot 5002, a still life of a simple cup and spoon in an understated color palette, well represents Kipniss's body of work. The small square still life is estimated at $500 to $1,000. The other example of Robert Kipness's work offers an insight into the artist's process. A Conté preliminary sketch of a landscape with houses accompanies the finished painting in Lot 5412, demonstrating the evolution of a painting in progress. The landscape and sketched are valued at $4,000 to $6,000.
Also of significant interest are the works by artists Jean Cocteau and Emilio Grau Sala to be offered in the April 7th auction. Originally from Barcelona, Grau Sala became well known in France for his colorist work in the French Salon "Comparaisons." "Two Women at a Table" captures Grau Sala's vivid and loose style, and is estimated at $5,000 to $8,000.
The piece by Jean Cocteau carries a similar estimate at $6,000 to $8,000. The writer known for his masterful works "Les Enfants Terribles" and "Orphee" also produced illustrations, which often accompanied his poems. The colored crayon drawing to be sold at Kaminski depicts a profile of a face drawn in ink amidst colorful crayon markings, and is estimated at $6,000 to $8,000.
A number of fine pottery and glass items will join these works of fine art in this exciting twentieth century sale. Among the highest estimated lots is a beautiful large Nakagawa handturned tea jar, wood fired in Shigaraki. The jar, which is signed on the base, is predicted to fetch between $1,000 and $2,000.
Highlights from the glass selection in the sale include a Venini glass bowl with fourteen pieces of fruit made from art glass, estimated at $800 to $1,200, and a crystal bowl with a palm design signed Buquet 2001, estimated at $1,000 to $2,000.
The anticipated modern sale will also feature a noteworthy selection of modern furniture, including a Gilbert Rohde for Herman Miller desk made circa 1936, priced at $1,400 to $2,000, as well as Knoll leather and wood lounge chairs from 1983, estimated at $600 to $1,000. A Le Corbusier LC4 lounge by Cassina will also be offered for $2,000 to $3,000, in addition to a Eugene Schoen settee, accompanied by vintage fabric for $8,000 to $10,000.
One of the most unique items to be included in the sale is a beautiful mahogany model airplane. The sleek large-scale model is beautifully carved and makes a very impressive visual with its ten-foot wingspan. The model is estimated at $4,000 to $6,000.
All of these captivating lots and more exciting offerings will be auctioned at Kaminski's Spring Twentieth Century Design Auction on April 7th at 10am. Preview for the sale will take place Wednesday, April 3, from 10am to 5pm; Thursday, April 4, from 10am to 5pm; Friday, April 5, from 10am to 8pm, Saturday, April 6, from 10am to 5pm; and starting at 8am on the day of sale.
Kaminski Auctions
Kaminski Auctions, located on the North Shore of Boston, has been serving the New England antiques market for over 25 years as a full service auction house and appraisal service for fine art, antiques and estates.
With two locations in Beverly, Massachusetts, including a new state of the art auction gallery located at 117 Elliott Street, and a historic 1850's barn and office facility at 564 Cabot Street, Kaminski Auctions hosts 25 auctions a year.
In today's highly competitive market of fine art and antiques, Kaminski Auctions provides its customers with bicoastal services and marketing with west coast offices in Beverly Hills and San Diego, California.
Kaminski Auctions offers specialty departments in Asian Art and Antiques, Silver, Glass and Lamps, Couture and Vintage Clothing, Photography and Modern Design . We have highly trained and knowledgable appraisers on staff that will help you determine the true value of your antiques, or entire collections. Free Appraisal days are offered every Tuesday from 10:00am-4:30pm at our 564 Cabot Street location in Beverly, Massachusetts & our 5171 Santa Fe Street location in San Diego, California. We welcome emailed photos of your items!
Contact Harry Morgan - hmorgan(at)kaminskiauctions(dot)com