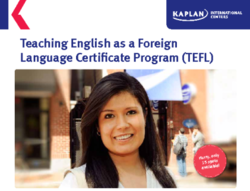 We at Kaplan created this course with a huge emphasis on the practical teaching experience
(PRWEB UK) 21 March 2013
Kaplan International Centers are delighted to announce the launch of a new TEFL course starting in Boston this month.
The TEFL certification course, which starts on March 26th at Kaplan International Centers' school in Harvard Square, is only available for native English speakers who are US Citizens or Green Card holders.
Kaplan are offering a special promotion with the launch of this course by waiving the tuition fees, which means that TEFL students can enrol for as little as $260 USD.
The 6 week course involves 60 hours of teacher-trainer led coursework and 60 hours of structured study including authentic teaching practice with international students from all over the world.
All teaching practice is performed alongside some of the most experienced teachers in the industry.
Aga Paul, Executive Director US, said: "Many people I know took TEFL/TESL courses before they went abroad and their main complaint was that they didn't get to actually do any teaching to foreign students… the mock lessons were taught to the other course participants who are also American!
"For many people it is super stressful not only to teach grammar, but especially to stand in front of a class full of students for the first time.
"With this in mind, we at Kaplan created this course with a huge emphasis on the practical teaching experience- our students, future TEFL teachers, will get to practice teaching real foreign students during their course AND have the opportunity to observe seasoned teachers in real-life classroom settings as well!"
For more information about this course and whether it is suitable for you please visit Kaplan's TEFL courses website: http://www.kaplanteflcourses.com
About Kaplan International Centers
Kaplan International Centers is part of Kaplan, Inc., an international education services provider offering higher education, professional training, and test preparation. Kaplan is a subsidiary of The Washington Post Company (NYSE:WPO). http://www.kaplaninternational.com